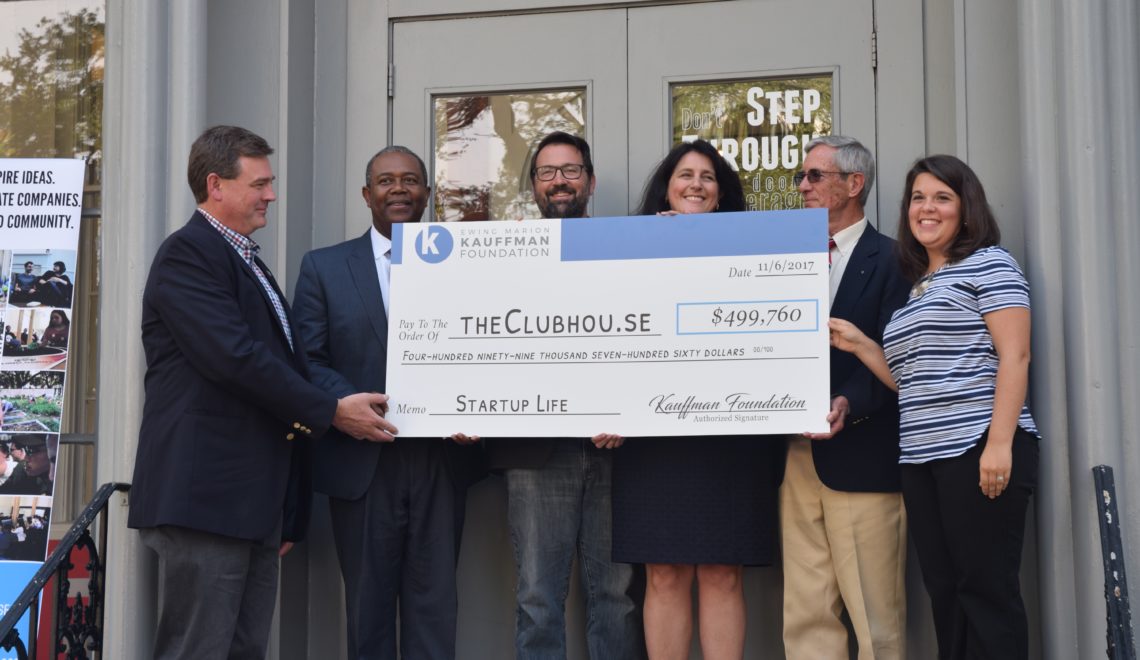 CONTACT:
November 6, 2017
theClubhou.se Accepts $499,760 Grant from the Kauffman Foundation
Second-largest grant in nonprofit's history to support business accelerator program
 Augusta, GA—theClubhou.se, Augusta's innovation center and technology incubator, has received its second-largest grant from the Kauffman Foundation to fund Startup Life, a uniquely designed, year-long zero barriers business accelerator program to help 10 disadvantaged entrepreneurs launch a successful startup.
 The nonprofit announced the $499,760 grant, part of the Kauffman Foundation's Inclusion Open grant program, on Nov. 6. Out of 783 applicants, theClubhou.se was one of only 17 grants awarded.
 Most entrepreneurs—particularly those who are disadvantaged—aren't able to leave work to focus on and pursue their vision. The funding from the Kauffman Foundation will launch Startup Life, a year-long program providing disadvantaged entrepreneurs in the CSRA with basic living expenses along with mentorship and connections to allow them to focus entirely on developing a successful startup company and new career.
 "Since 2012, theClubhou.se has helped grow 35 sustainable businesses contributing over 90 jobs and $7 million in economic activity in the Augusta area. Based on our experience, the success of a startup is directly proportional to the amount of time an entrepreneur is able to focus on it," said Eric Parker, cofounder, chairman and innovation architect at theClubhou.se. "By focusing on the elimination of expenses, as opposed to startup capital requirements, we can fully leverage our community's low cost of living to harness the creative problem-solving capacity of the entrepreneur."
In spite of the Augusta area's low cost of living, startups involve enormous risk with little social safety net. Capital markets are also limited and unemployment is higher than the state average. Startup Life will provide entrepreneurs with:
Furnished dormitory housing
Nutritious, healthy locally sourced meals
Transportation and access to public transportation
20-week curricula in design empathy, ideation, iteration, team collaboration, customer experience, financial literacy, and automation & rapid prototyping technologies
Full computer lab and makerspace access
Full coworking access with desk, WiFI, coffee and community
32 weeks of ongoing support through mentorship and connections to resources, capital and communities to scale their business
Connections to business and investment community, government services, guided educational workshops, marketing and public relations opportunities.
According to a statement by the Kauffman Foundation, "The Kauffman Foundation works with organizations that help empower entrepreneurs with the tools and resources they need to break down barriers that stand in the way of starting and growing businesses. We fight to empower the makers, the doers and the dreamers to create their own destinies and achieve uncommon things."
The Kauffman Foundation launched its most recent Inclusion Open grant program this spring as a facet of its Zero Barriers movement, which is based on the belief that everyone has a fundamental right to turn an idea into an economic reality, regardless of who they are or where they live.
This is the second Kauffman Foundation program at theClubhou.se. theClubhou.se launched 1 Million Cups, a free monthly gathering based on the notion that entrepreneurs network and discover solutions over cups of coffee, in September.
Potential beneficiaries of Startup Life include displaced workers, veterans, underemployed, immigrants, women and other minorities who might otherwise not have opportunities into the eco-system of citizens who support new business ideas. Aspiring entrepreneurs can apply to Startup Life by visiting: startuplife.theclubhou.se.
About theClubhou.se: theClubhou.se is a self-sustaining creative technology cooperative workshop that provides people with the space, equipment, instruction, guidance, and friendships necessary to tackle any challenge they may face. We believe that the sole purpose of technology is to better human lives, and that through mastery of it, our members can enjoy higher quality of life while also being individually more productive. For more, visit www.theclubhou.se.
About the Kauffman Foundation: The Ewing Marion Kauffman Foundation works in education and entrepreneurship to carry out the vision of Ewing Kauffman, who believed that everyone should have the opportunity to take an uncommon approach in their drive to succeed. For more, visit www.kauffman.org