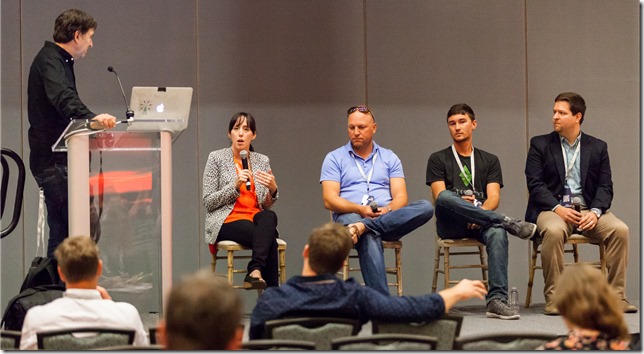 After emigrating from India, Paul Singh became a bricklayer in Ashburn, Va., a formerly small town of 8,000 people outside of Washington, D.C.
The town's inexpensive, available land attracted the founders of AOL to build their company there in the '90s. Within a year, the company attracted 6,000 tech employees and built huge offices. The city now has 43,000 residents and 8 million square feet of data centers.
"Ashburn pretty much went from 'nothing Ashburn' to something that's still called 'Cashburn,' " said Singh, an investor and former partner of the firm 500 Startups, during the Dig South conference last month in downtown Charleston. "The point is that one company changed the face of that town. … I think now every city has its own AOL."
Strength is in numbers when cultivating a successful tech scene, Singh said. Charleston needs more companies to start, scale and sometimes fail, according to Singh and other area tech sector leaders. That process will inevitably yield bigger companies that will hire thousands of people, get acquired for millions of dollars, or attract more investors or skilled workers to the region.
John Osborne, co-founder of The Harbor Entrepreneur Center, launched a 14-week startup boot camp, the Harbor Accelerator, and a six-month mentorship program for later-stage companies, Propel, with that thesis in mind. Additionally, the city's Charleston Digital Corridor runs two co-working spaces on the peninsula with the hopes of nurturing more scalable startups in Charleston.
The Lowcountry's burgeoning tech sector has now had five exits worth over $50 million in Blackbaud,Benefitfocus, Automated Trading Desk, Sparc andPureCars. Most recently were Sparc's buyout by Booz Allen Hamilton for an undisclosed price and Raycom Media's purchase of PureCars for $125 million. In the past five years, the region has attracted over $100 million in venture capital for companies like PeopleMatter, Zubie and PhishLabs.
The tech scene is gaining traction, but it lacks the volume in companies growing, getting funded or being acquired, compared with other tech hubs around the country, such as Boston or Austin, Texas.
"Tech companies will not create the majority of jobs in Charleston, but what happens in the tech sector will determine the outcome for everybody in Charleston and in South Carolina as a whole," Singh said. "Tech companies will never create the majority of jobs, but they will boost area salaries and they will create other jobs."
DIG SOUTH founder Stanfield Gray said he wants the conference to continue boosting the Charleston tech sector — and the Southeast as a whole — on a national scale to garner more investment, company headquarters and expansions, and skilled workers to the region. The fourth annual Dig South conference attracted more than 2,500 founders, developers, investors and creatives.
Gray said software has "kind of taken over every industry" and that DIG SOUTH provides a way for startups to "find the content, contacts and capital they need to succeed."
Paul Singh, who is currently driving around the country to visit tech hubs for his latest venture, Results Junkies, said his version of that mantra is to "bring urgency, bring venture capital — whether it's through angel or VC — and bring functional expertise."
"You guys have a great thing going here. Between all the weather and the food and the people, and all of the money sitting around here, there is a huge opportunity to build a huge company in the Southeast," Singh said.
Entrepreneurs speaking at DIG SOUTH were in agreement that Charleston is a great place to live and that the city — with its food, culture and beaches — often sells itself to prospective employees. They also shared their concerns for what a larger tech sector might bring — unaffordable housing, urban sprawl and gentrification — as well as ideas for how to scale the startup scene.
Kristen Fergason, vice president of marketing at Charleston-based real estate technology firm BoomTown, said the region has to "brag a bit more" to the rest of the country.
"I think Charleston is an interesting city in that the culture is a bit humble. It has lot to do with the way companies are presenting themselves in the market. They tend to stay very local and very tight," Fergason said. "We're a little shy."
Matt Gough, CEO of Echovate — a Charleston-based software company that uses data to help companies find ideal job candidates — said the region needs more companies to grow and eventually get acquired.
"It just takes time to run through a couple of those exits," Gough said. "You're going to go from five exits over $50 million to 25 exits over $50 million and that will continue to grow and grow and grow. … It's not a matter of if, it's a matter of when."
Will Jamieson, chief marketing officer of Charleston's live-streaming video app, Stre.am, said a large consumer brand name built out of Charleston would help propel the tech scene nationally and attract more investors to the region. He said he also wants to see more reinvestment by successful entrepreneurs.
"I think as long as the people who have had success in Charleston keep reinvesting in the city and new startups coming in, I think in five years we'll actually deserve the name 'Silicon Harbor,'" Jamieson said. "It won't be self-imposed but something that's actually deserved and recognized nationwide."
Originally posted in Charleston Regional Business Journal by Liz Segrist.