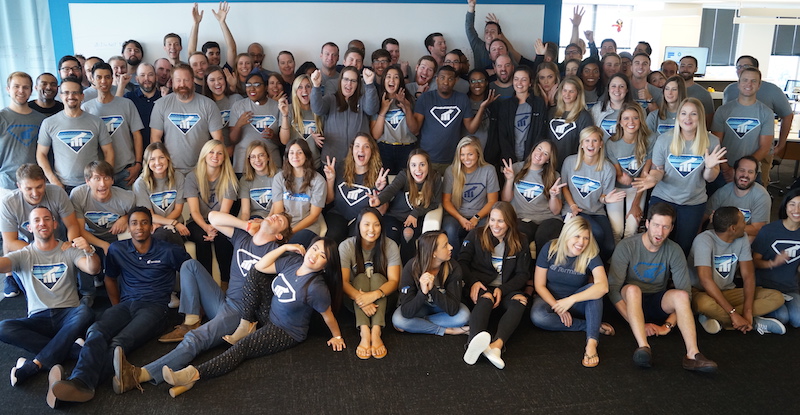 Editor's note – this article originally appeared on Inc.
It's a great feeling when your business is growing fast and going gangbusters. Entrepreneurs know how sweet it can be to see all your hard work coming to fruition. As a fellow startup co-founder, I want to talk about a recent milestone for my company, Terminus. We made Inc.'s Top 50 Best Workplaces for 2017!
When I first learned we made the Top 50 privately held companies in America based on survey feedback from our own employees, I couldn't help but feel grateful. Our secret to success is truly our people. Every "Terminator" at Terminus is empowered to make his or her own decisions.
The "Keys to the Ferrari" mantra works well in a startup by letting employees drive their metaphorical Ferrari as fast as they can in whatever direction they believe is best for themselves and the company. We tell every new hire on his/her first day:
"Here are the keys to the Ferrari. Now drive as fast as you possibly can. It's yours to crash or yours to get to the top speed in whatever direction you want to go."
Of course, we don't literally give them a Ferrari, but the idea caught on fairly quickly. All our employees have the autonomy to do things their way, as long as the core values of the company are not compromised. We want our team to know that we're here for support, but the Ferrari is ultimately each employee's responsibility to drive.
So to help promote this idea of the Ferrari, we want to provide a bit more structure for our team. My co-founders and I realized that each of us bears a responsibility for one (or more) of the key functions in our organization. As we continue to grow and scale, our employees need to know who they report to in the company…in case something breaks on the Ferrari.
At Terminus, we're all about making 10X moves and leveraging the talent of our team members. We're so fortunate Terminus has made it this far and wanted to share a few ways we made our company place to work.
Team setup
After graduating from the Atlanta Tech Village, we were lucky to sublease square feet of office space for our rapidly growing team that's now at 110 employees! We want people to enjoy time in the office with each other and also be productive to achieve their goals. This might seem simple and obvious, but consider the current layout of your office: is it designed to be the best place to work for collaborating across departments?
Cross-functional outings
We make sure to do monthly cross-functional events and outings so teams can understand each other's roles and get to know each other better on a personal and professional level. If you're not doing cross-functional outings at least once a quarter — like Marketing + Customer Service or Engineering + Sales Development — then consider implementing these activities. It's important in a startup to learn more about your colleagues in other departments and what they do every day because it makes it way easier to work collaboratively.
Bottom-up leadership
We strive to empower every team member to become a leader. We want our Terminators to take it upon themselves to organize team activities and not wait for something to be scheduled. Of course, we do frequent lunches and quarterly outings, but teams also have the opportunity to do additional activities. For example, teams can take a half day for an afternoon eating lunch and playing games at the park. It doesn't cost much, and it's a refreshing and engaging way to recharge.
Slack it
We use Slack a lot at Terminus. If you haven't tried Slack, you must! Most teams at our company live on Slack, while some other folks have been slow to adopt it, so we are planning to do a company lunch and learn to share how we can enable the entire company to start "Slacking." This tech enables us to have "always on" communication.
Be transparent
Every week, we write an email to the entire company, including our investors and advisors, with progress to our goals. Additionally, we do a weekly "all hands" meeting with a catered lunch every Tuesday. It's time for the whole company to sync up on news, product developments, and hear firsthand from our CEO. Transparent communication is so essential for early-stage companies.
Co-founders need to get real
Each of our three co-founders works directly with two specific departments so we can remove roadblocks and have regular 1:1 conversations with team leads. This way, no department feels like they're alone on an island, and as co-founders, we get to work with teams and problems that we can have the most impact on.
Evaluate your core values
Something that is near and dear to me is how we changed our core values from "Positive, Supportive, and Self-Starting" as we grew. Like many other companies in the Atlanta Tech Village, we adopted these core values as a starting point. As we grew, we redefined our values to match our unique, passionate, and highly motivated team dynamic. We're all about hustling and making magic in the moment so we came up with the "Keys to the Ferrari." How would you sum up your own core values?
And you wouldn't trust just anyone to drive a Ferrari, right? A huge factor in our success is our culture of respect and trust with one another. We continue to make sure we have this as part of the DNA in every single person we hire.
There is no substitute for respect and trust if you really want to build a best place to work.