This is the latest contributor post from Tom Snyder, Executive Director of RIoT, a Raleigh, North Carolina-based network of technologists, engineers, business leaders, academics, policy makers, and entrepreneurs focused on growing Internet of Things opportunities regionally and nationally. 
Cities everywhere are striving to become "Smart" as they push for data-driven government and solutions that improve quality of life for their citizens.  The breadth of challenge in front of our cities and communities is massive, ranging from traffic management to public health; from citizen safety to efficient utilities; environmental protection to economic growth.
You need only look as far as the events in Houston last month to understand the criticality of having stormwater sensor data to inform and keep citizens safe.  When that data ties into additional systems, controls, hospitals and public safety resources, the prospect for saving lives and infrastructure only increases.
Thousands of "smart solutions" are proposed, from hundreds of providers.  Complexity can be daunting and interoperability is far from standardized.  What is the best path forward for cities and government officials?
RIoT has supported Smart City initiatives over the past several years and led a large regional delegation to the Smart Cities Summit in Austin the past two years.  Cary, North Carolina implemented an innovative approach and I recently sat down with Nicole Raimundo, Chief Information Officer and Terry Yates, Smart Cities Program Manager for the town.  Here is an abbreviated conversation:
Tom Snyder [TS]:  Tell me about how Cary is turning the town's government complex into an IoT test bed.
Nicole Raimundo [NR]: In 2016, Cary created its Simulated Smart City Program. This program utilizes Cary's Town Hall Campus to test and evaluate smart cities and IoT technologies. This area is a great testbed because it features a small park, two community centers, city offices, an IT data center, traffic management center, E911 center and a parking deck. Every department has representation on campus and is included on a Smart Cities Committee. This Committee determines departmental needs and problems in areas such as transportation, facility usage, utilities, public safety and citizen engagement, then builds use cases to ask various entities for solutions.
This enables three key objectives. First, companies can pilot potential solutions and see if they're compatible and effective before enterprise-wide deployment. Second, it also allows startups to demonstrate and showcase their products on campus. Finally, it creates an educational incubator where local colleges, high school students, and interns can learn about smart cities technology. The ultimate goal of the program is to drive economic growth and improve the quality of life of people by harnessing technology, especially technology that leads to smart outcomes.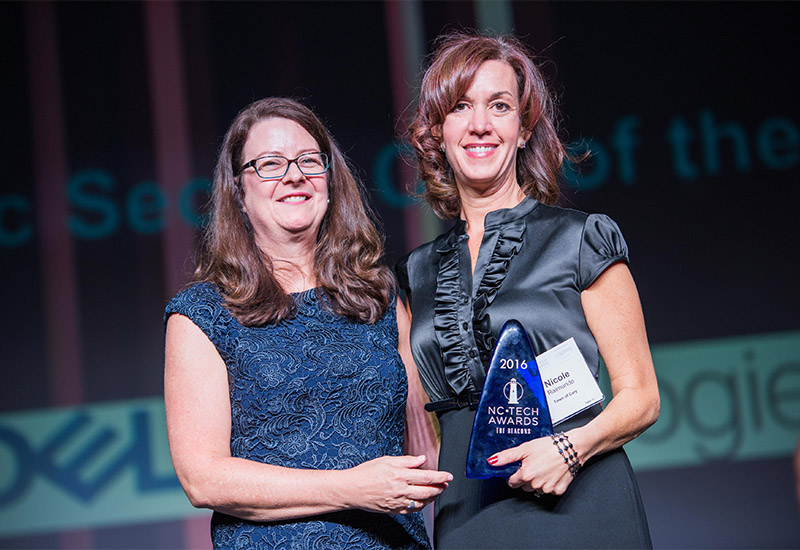 TS:  Where do you see big data having the most immediate impact?  What are the biggest hurdles to overcome?
Terry Yates [TY]:  As Cary steps into the world of IoT, we understand the three most important impacts of gathering the data.  One, having useful tools in place to collect large volumes relevant data. Two, after the data is collected, it must be processed and analyzed to gather insights.  Three, those insights must drive actionable steps towards desired goals.
One of the biggest hurdles is there is not a one-size-fits-all solution to data collection and processing.  For example, connected cars rely on fog and edge computing where decisions must be made quickly and large amounts of data may remain at the edge. Traffic System Managers may need portions of this data, combined with traditional traffic signal data, to help plan for future projects and initiatives. The trick is determining what data is needed and how to combine it with the traditional data.
TS:  How do you get citizen inputs and engagement?
NR: Our plan is to leverage the expertise of our citizens to validate the effectiveness of technology that's being tested. This will be done by utilizing outside technical advisors; including local companies, nonprofit, economic development experts, education partners and our citizen advisory board.   They will provide input on our overall Smart City Strategy. We will leverage our citizens, particularly our Information Services Advisory Board to gain feedback, test applications and garner input.
TY:  We also plan to gather inputs from smart city technologies such as Wi-Fi beacons, parking sensors, intelligent personal assistants and our new Salesforce CRM product. We will use data from those platforms to determine how to improve our citizen engagement.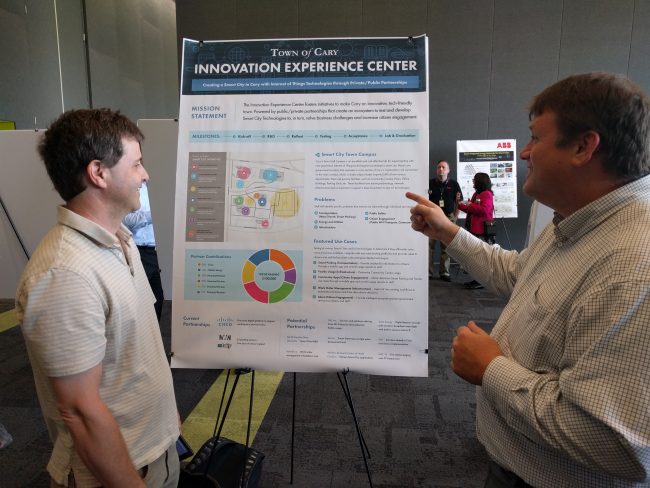 TS:  You recently spearheaded an effort to hold a Healthcare technology event on the town's campus.  How did that come about?
NR:  Through our Simulated Smart City discussions, the RIoT leaders mentioned they were looking for a venue for a special healthcare event focused on smart city solutions. They shared with us that a focus of the event would be the opioid epidemic.  This peaked our interest, knowing that one of our Mayor's priorities is the opioid epidemic.  The event seemed like a natural fit to have the event on Campus.  The timing of the event also tied in nicely to a special VIP Speaking Event with Sam Quinones, the author of Dreamland: The True Tale of Americas Opiate Epidemic.
TS:  What measures is Cary taking towards the opioid problem?  How can people and companies get involved?
TY:  The growth of the problem has been exponential with 100 deaths in Cary last year.  It is a problem affecting every community. Our police officers are now trained and carry Naloxone (Narca) to treat overdose patients.  Cary has created an internal group that meets regularly to share ideas on various solutions/offerings around all aspects of the crisis. One such idea being investigated is working with a startup to utilize sensor technology to test wastewater, at a community level, for Opioid readings.
Citizens and companies can get involved by attending events such as RIoT offers and participating in programs such as Operation Medicine Drop.
TS:  What advice do you have for other municipalities?
TY:  Rally stakeholders from every department, spend time understanding the problem you are trying to solve, determine if an existing platform or process can solve the problem, engage with outside technical advisors (nonprofit, education, citizens, corporate, entrepreneurial members) to bounce around ideas and start with small pilots to make sure the solution solves the problem.
To learn more about other Smart City and Internet of Things efforts across the region, visit http://www.ncriot.org/.