Imagine walking into a cell phone store and, just as the tester ringtones begin to wear on your patience, transporting yourself to a virtual Caribbean cruise. Picture ditching online FAQs and learning how to use a new product with the help of a holographic mentor or a 3D mobile app instead. Or what if you could skip the dealership and use augmented reality to configure and test drive your perfect car?
We're not plugging a remake of The Jetsons; these are all projects that DIG ETC member John Buzzell and his team at YOU ARE HERE have dreamed up and implemented in the last two years. After two decades in interactive design and digital strategy (he's spearheaded creative projects for major organizations like National Geographic, Turner and Coca-Cola), John realized that immersive technology isn't just a novelty — tools like AR, VR, 3D mapping and holograms can help brands educate, engage and excite people in ways that traditional marketing and sales strategies can't.  
As the President of YOU ARE HERE, John has helped brands like Porsche, AT&T, and NBC Sports use immersive technology to transform retail, trade shows, and events. And he's hoping to grow these types of efforts across the Southeast. As the President of the VR AR Association Atlanta Chapter, he fosters collaboration between companies and thought leaders in the industry and provides resources and education for newcomers on the scene.
We caught up with John to find out why immersive technology isn't just for "techies," how retailers, manufacturers and designers alike can use AR/VR, and which Southern-based companies we should all have on our radar.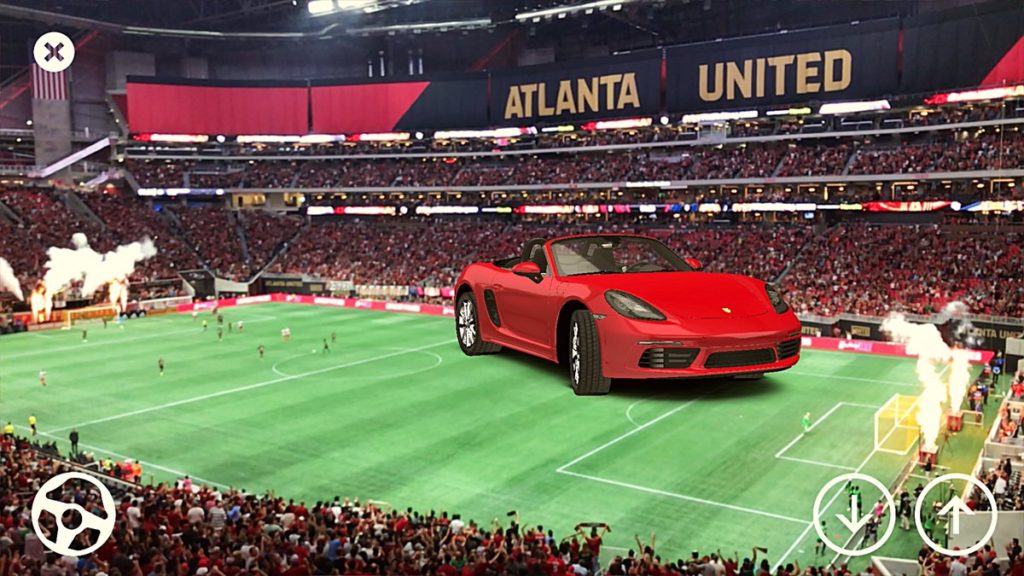 Leaders in the tech world have been talking about (and using) augmented and virtual reality for a while, but it's still a new concept for lots of consumers. How would you explain immersive technology to a newbie?  
Ever since we started using computers, they've been stuck in a box. We've had to learn to speak their language: with a keyboard, with a mouse, and most recently with swipes and taps. Now that we have powerful mobile computers and high-speed mobile internet, computers can move into our real world.  Immersive technology is reinventing how we see data in the world around us. We're using it now with our phones, but in the coming years, we'll use computers with our eyes, with our voice, and with our hands, every day and all the time.
How did you land in the world of immersive technology?
Immersive technology combines everything I've done before. I got an early start with computers back in the late 1970s, and worked my way through jobs coding and designing for all kinds of computers that used diskettes, CD-ROM, internet, broadband, social, mobile, and games. Immersive tech like Augmented Reality and VR combines the best of what I've learned along the way, and it has the potential to make using computers more productive and enjoyable than ever before.
You've worked in the creative industry for 25+ years, leading interactive UX and product strategy for big names like Turner, AT&T, and Coca-Cola. In your experience, what makes a great product? Is there a secret formula?
Great question! There's a great quote from marketing thought leader Seth Godin who says, "Don't find customers for your products, find products for your customers." These days, computing comes in all shapes and sizes. We've moved from the era of "Can we.." to "Should we.."  Technologies will come and go, but focusing on solving customer problems will always be valuable. We should strive to create products based on customer insights and needs, using technology to do it better, faster, and cheaper. I believe immersive technologies will open all kinds of opportunities to make our physical lives better.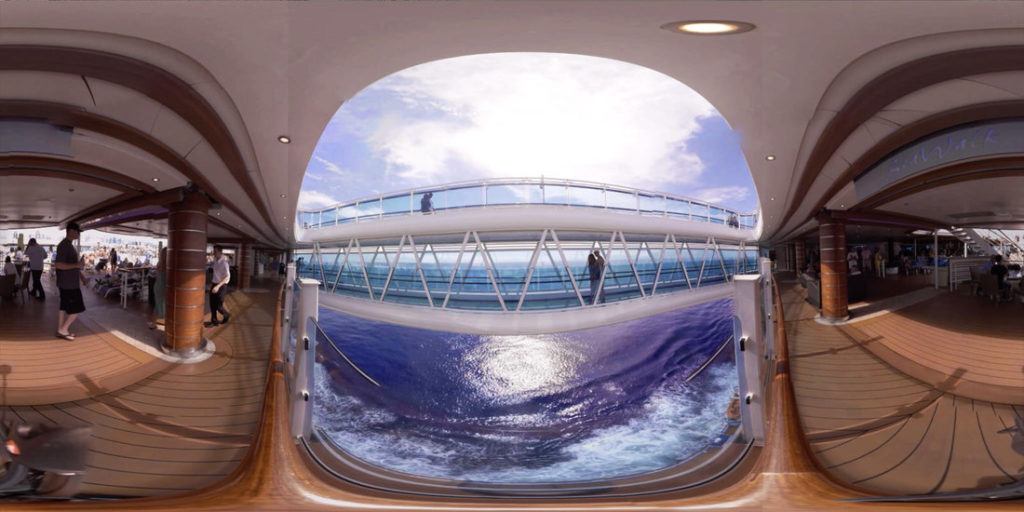 Why should creatives, techies & business-people alike be thinking about immersive technology?
We live in an era dominated by technology, and its driven by yield – the most engagement, the most revenue, the most audience, etc.  For the last 12 years, technology companies have focused on the smartphone as the greatest opportunity to create success, and now they're moving on. If you look at Apple, Facebook, Google, Microsoft, and Amazon, they're all saying kind of the same thing. Immersive technologies like Augmented Reality and VR are what comes after the smartphone. Immersive tech requires investment in 3D content, and it combines web, mobile and social towards new ways of understanding place, space, and people, At my company YOU ARE HERE, we're focused on marketing and training with immersive tech to prepare companies for this future.
Many people think of AR/VR within the entertainment industry (headsets, gaming, etc.) or perhaps for manufacturing (visualization tools). Are there other industry applications we might not know about, but should?
People should stop paying so much attention to new devices. With new headsets still coming out every 2-3 months, it's like a horse race that never ends. Immersive technologies like Augmented Reality and VR can be used for storytelling, building empathy, marketing, training, and collaboration. In fact, we are seeing great excitement in the Enterprise for AR/VR to support the entire sales cycle from product introduction, to solution design, to training, to remote service and repair. It's still pretty early. I would compare this time to 1982 for the Personal Computer or 1993 for the Internet. Fortune will favor the bold.
What are some ways you've helped clients implement AR/VR for training and education?
We're helping clients in transportation and manufacturing who are facing a graying workforce with urgent needs for knowledge transfer.  Younger workers are struggling with the classroom-based instructional methods that date back to the industrial revolution. Immersive tech is helping younger workers who want engaging instruction that can be measured and adapted for a more personalized experience.  Starting with creating 3D models of machines and parts, we're helping clients teach their employees and customers how to operate and maintain their products. These solutions work on existing equipment that lets them learn from the factory floor to the kitchen table.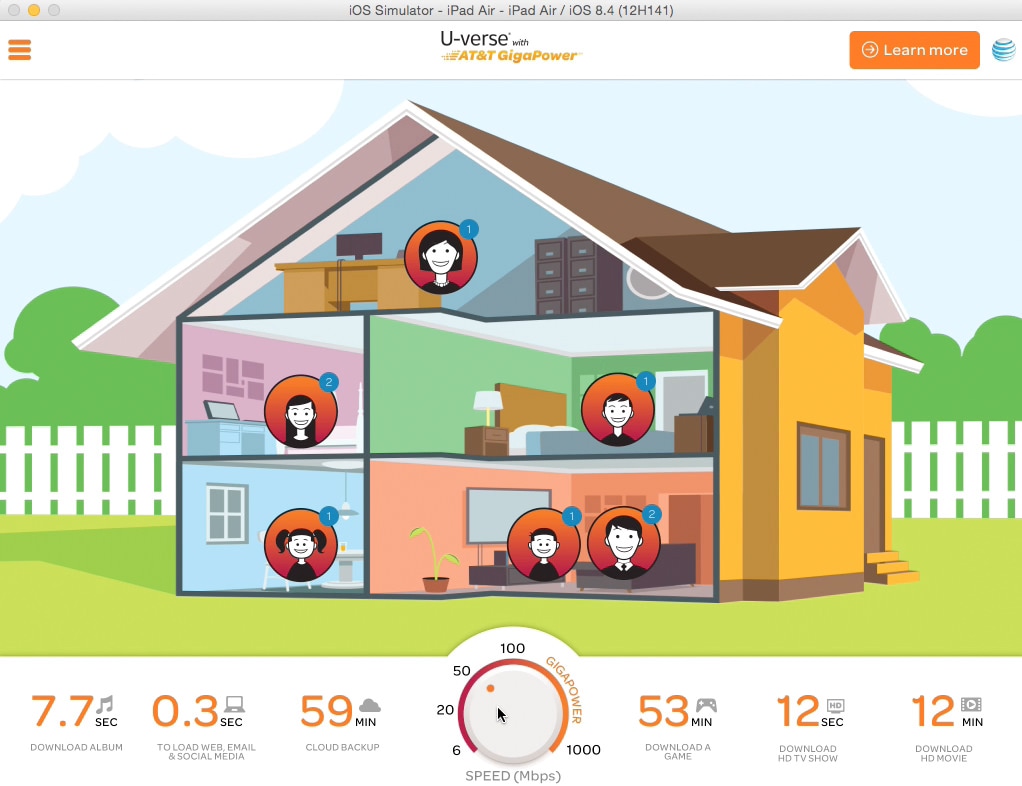 Retail is a rapidly changing and challenging space. How can brands use immersive technology to enhance the retail experience?
This is a timely question. I recently answered this in my keynote at the Mixed Reality Marketing Summit on November 5th in New York.  Immersive technology easily fits into "THE 5 Ps OF MARKETING." Immersive can help customers understand your PRODUCT to create demand. It can contextually deliver PRICE messages when most relevant. Sensing PLACE, drive to retail, or support in-store.  It's a new opportunity to extend your brand voice through PEOPLE, real or virtual. It can offer contextual PROMOTION, as long as it respects the intimacy of the medium. Put another way, Immersive tech can help people understand how your products fit into their lives, it can drive to and assist at retail, and ensure satisfaction post-purchase, leading to creating demand for repurchase, upgrade, or cross-sell. Most brands have yet to include Immersive technologies in their marketing, which means there's still a great opportunity to differentiate and increase your market share.
Could you share a few examples of how you've used immersive technology as part of a broader marketing / brand storytelling strategy?
Of course. For AT&T, we helped them show business customers that AT&T is more than phones. We used Augmented Reality, VR, and Immersive rooms to envision how their next generation network supports smart cities, smart homes, smart cars, and drones.  For Porsche, we used Mixed Reality and AR that allowed customers to experience the excitement of customizing their dream car. For Carnival Cruises, customers used VR to sample a cruise – sunsets, fine dining, excursions and entertainment. It's hard to sample a cruise. In each example, these powerful extensions of their brand story led to record engagement.
You're the President of the Atlanta Chapter of the VR/AR Association. What Georgia or Southern-based VR/AR efforts or organizations should we have on our radar?
The Southeast is growing as a tech hub, and southerners have a lot to choose from. In addition to the VR/AR Association, would recommend checking out the Atlanta XR meetup, the Atlanta Mixed Reality meetup, VR Day Atlanta, Moxie's Future X Live event, and Immersive university programs at Kennesaw State University, Clemson University, Full Sail in Orlando, Georgia Tech, and the University of Georgia. We also have a monthly event in our lab called Headset Happy Hour that draws a diverse and smart group of people interested in Immersive technology.
What makes Atlanta a great place for an immersive tech company?
Atlanta combines a great quality of life, world class talent in tech and entertainment, and serious capital from some of the world's biggest companies. This mix is a strong alternative to Silicon Valley or the Northeast.  Building the future is hard work, and Atlanta is a great place to live while you're doing it.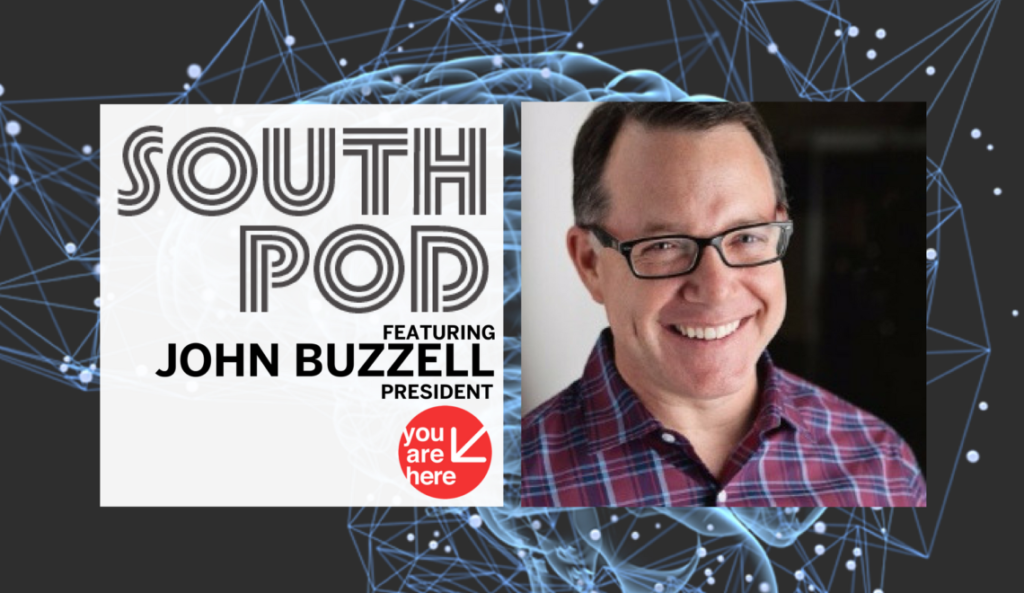 As you plan your marketing and sales strategy for 2019, will immersive technology be in your toolkit? We'd love to know! Share with us on Twitter, Facebook, or Instagram or tell us all about it in-person at DIG SOUTH, April 24th – 26th in Charleston, SC.  John Buzzell was one of our acclaimed speakers in 2018, and you won't want to miss the lineup of top-shelf presenters next year.
You can learn more about YOU ARE HERE by visiting http://www.youareherecorp.com/ and discover the latest happenings with the Atlanta VR/AR Association Chapter at http://www.thevrara.com/atlanta/.
You can also watch to John's interview on SOUTH POD here.