CHARLESTON METRO, SC – Nevada-based Redwood Materials plans to invest $3.5 billion in its Berkeley County plant, bringing approximately 1,500 jobs to the area. This marks the largest economic development announcement in the history of South Carolina and will have a significant positive return on investment for the Charleston region. The privately-owned company led by CEO Jeffrey Straubel, former Tesla co-founder, recycles electric vehicle batteries.

"Redwood Materials' record-breaking announcement shows that our state's strategic plan to remain a top destination for automobile manufacturers and their suppliers as the industry innovates is working," said Gov. Henry McMaster. "This $3.5 billion investment, and the 1,500 jobs it will create in Berkeley County, is a transformative accomplishment that can only be attributed to the strong, talented, hardworking South Carolinians who make our state as great as it is." Read on.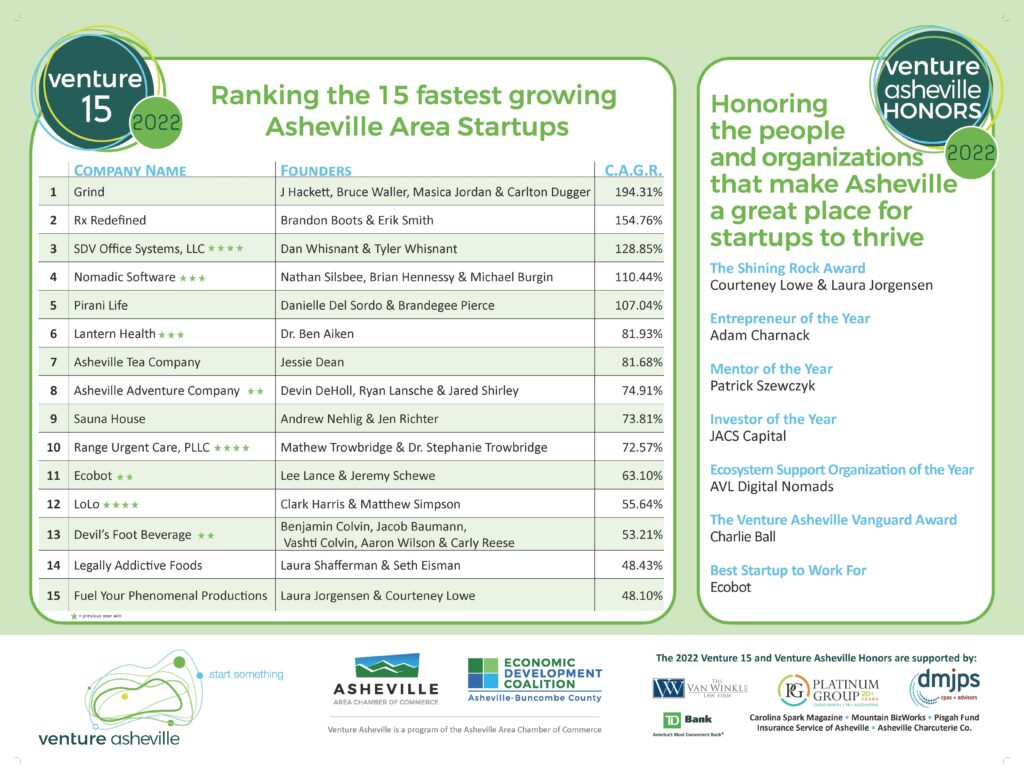 ASHEVILLE, NC – Venture Asheville announced the Venture 15 Awards and Venture Asheville Honors, ranking the 15 fastest growing startups and honoring the people and organizations that make Asheville a place for startups to thrive, on December 15 at The Orange Peel in downtown Asheville, NC. This event recognizes the area's outstanding entrepreneurs, and serves as an elite setting where they can share their talent and wisdom as well as offer inspiration to other fledgling companies to be part of this exclusive group. Startups are measured by their Compounded Annual Growth Rate (CAGR), using year-end revenues. Learn more.

RALEIGH, NC – Applications are now open for high-growth startups interested in pitching at Venture Connect 2023, a capital conference that brings together the tech and biotech communities in North Carolina. Early stage and scaling companings seeking investment, talent or customers are encouraged to apply. CED welcomes scaling ventures in the Tech, Biotech, Agtech, Food Innovation, and CPG sectors to submit an applications. Apply to pitch.

WINSTON SALEM, NC – Kinetic, a 6-week, cohort-based program that helps aspiring entrepreneurs workshop their early-stage creative business ideas and explore their customer base, is now accepting applications. Weekly curriculum, with in-person and remote options, is taught by a team of subject matter experts who mentor and counsel founders. Kinetic graduates have successfully launched their startups, earned spots in business accelerators, and secured grants. Kinetic serves creative entrepreneurs that are using their design, art, music, theatre, film, writing, culinary, interactive digital media, and an array of artisanal skills to solve a problem for their customers. Apply here.

KNOXVILLE, TN – The University of Tennessee Research Park at Cherokee Farm received a $100,000 grant from Truist Foundation to support the Spark Innovation Center. Grant funds will be used to increase the Spark Center's core principles of diversity, equity, and inclusion, helping the Center recruit and serve more women- and minority-led entrepreneurs and startup companies through its programs like the Spark Cleantech Accelerator and the Spark Incubator Program. Learn more.

CHARLOTTE, NC – Dig South member and Wild Pitch contestant Shandoka Cycles has received a "Best Local Product" award from Queen City Nerve, Charlotte's alternative weekly. In 2010, Charlotte native Ernest Eich came up with an idea and began writing the patent for a structural conversion method so that gas motorcycles could be fully electric. Under that patent, he launched Shandoka Cycles. The Shandoka conversion system allows any motorcycle to be structurally converted for electric power using Eich's method of modular components to customize the motorcycle for a rider's preferences. "The same motorcycle can become a high-power, long-range machine with an appropriate price tag, or low cost and built for convenient commuting and around-the-town rides," Eich told Queen City Nerve.