Hey, DIG NATION,

The day has almost arrived. Bring a cup of your favorite morning brew and head on over to the DIG CAFÉ this Thursday at 11AM.

Ease drop with intention as Jon Yarian and I meet with Thomas Rubenak, Senior Principal at Accenture Ventures, and JD Weinstein of Oracle for Startups to discuss Navigating the VC Landscape & Pitching in Virtual Times.

REGISTER HERE!

Get ready for the rebound,

Stanfield

P.S. Stay tuned for the announcement of next week's Wild Pitch Wednesday startup this Friday.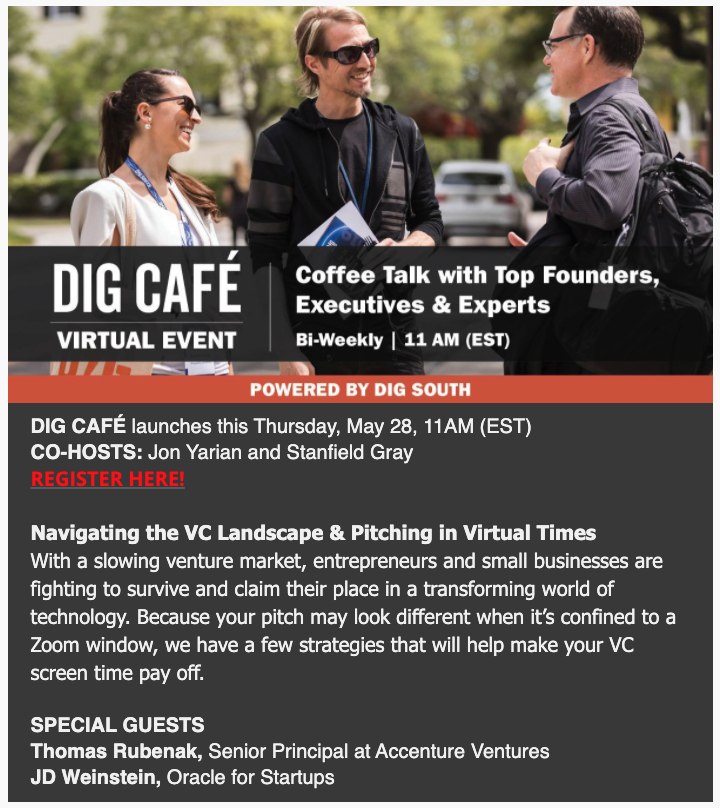 TECH IN THE SOUTH
????AUSTIN – Some free rides. Tough times call for philanthropic efforts. And Austin social good venture firm Notley is teaming up with Uber and the City of Austin to help with one of our most basic needs: transportation. Under a new partnership, the three organizations plan to giveaway $120,000 in ride credits for local nonprofits, essential workers and other individuals with critical transportation needs. Tech it out.
????CHARLESTON – Financially flexible. Benefitfocus Inc. has raised $80 million from an investor led by one of its board members as it braces for a sharp drop-off in sales from the coronavirus pandemic. Read more.
????ASHEVILLE – Geospatial modeling by Ecobot. The Asheville startup, which provides an app specializing in transformative environmental data reporting, released its newest software update, which integrated enhanced Esri geographic information system (ArcGIS Pro) mapping and data capabilities. "With no manual effort, map features collected in the field can now be dropped directly into ArcGIS Pro. This will revolutionize how our industry works," said Jeremy Schewe, PWS, Ecobot's co-founder. Get the deets.
????CHARLOTTE – Partnering up. Hylaine, a technology consulting firm headquartered in Charlotte, is expanding its data platform capabilities. The startup has partnered with Snowflake, a California-based cloud data platform. Hylaine said the partnership enables it to expand its digital transformation services to include Snowflake's single, integrated platform and "built-for-the-cloud data warehouse." Learn more.
NEXT ON SOUTH POD: LIGER PARTNERS
Whitney is Managing Partner of Liger Partners. Headquartered in Atlanta, Liger provides marketing as a service through their do it for you model so brands can launch quickly and increase sales. From strategy to execution, Whitney ensures all trains run on time. She's a creative implementer who knows how to represent with her best friends: Marketing and Social Media.