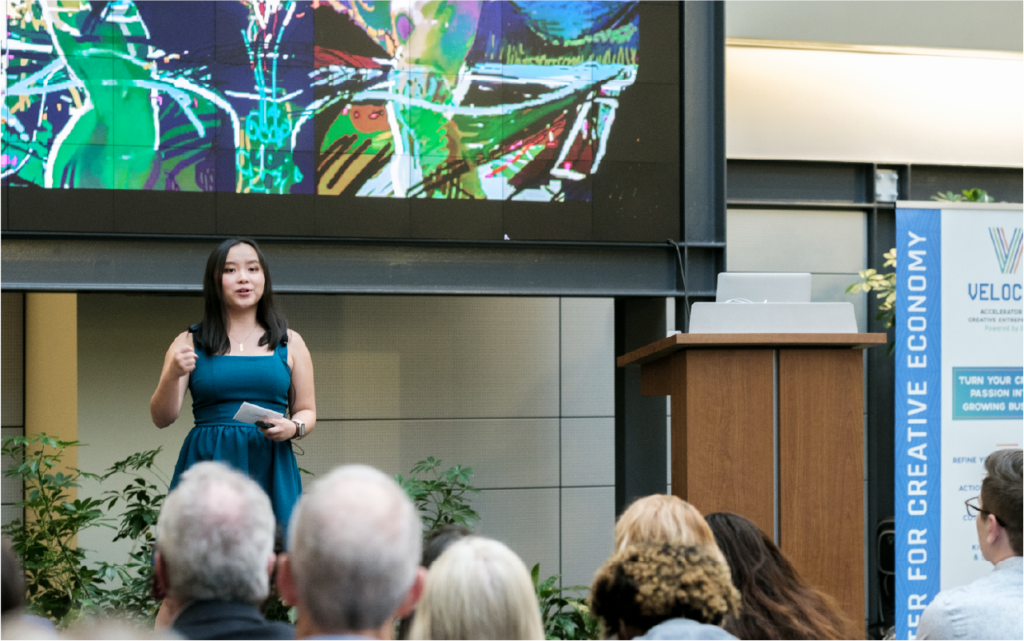 The Center for Creative Economy in Winston-Salem, NC has selected 10 entrepreneurs to participate in the organization's fifth creative accelerator. Velocity is an intensive high impact program that helps creative startups discover their target customers, develop business models, and develop a go-to-market strategy. Top startups in this 9-week program will split a pool of $50,000 in seed-stage funding.

40 startups from 11 U.S. states and 11 countries globally applied to participate in this year's accelerator. Of the 10 startups chosen for the program, 50% are run by women entrepreneurs, and 50% are founded by people of color.

This year's cohort includes:

2923 Comics
(Kansas City, MO): Creates comic books that show the abuse of power in underserved communities, and how to overcome it. Founder Jauquan Herron showcases a wide representation of diverse urban communities within the stories.

The Agent Accelerator
(Winston-Salem, NC): A real estate franchise model and community that provides training and coaching for new real estate agents to thrive.

FELOH
(Cleveland, OH): A social marketplace for hair care and beauty. Social activity within the platform allows users to earn cash to go towards purchases within the FELOH store. Brands have the ability to post products for purchase.

LiveMo
(Seattle, WA): a concert live-streaming platform focused on high-quality audio, that makes it easy for artists to share and monetize their content.

M1ND 6YM
(Kernersville, NC): Strengthening mental fitness through uniquely themed interactive, immersive, and engaging brain game adventures both online and in-person.

Mobiiuz
(Lyon, France): A patented add-on for standing desks that encourage users to naturally maintain a healthy posture and expend energy without fatigue while working.

OWOGAME
(Malaga, Spain): A wireless suit that allows players to feel over 30 different sensations in real-time while playing video games, and controlled through a mobile application, which enables users to increase or decrease the intensity of the sensations.

Upshots
(Winston-Salem, NC): A line of premium alcoholic desserts and savory shots in individual servings available through bars, restaurants, and caterers.

Wavelength
(Philadelphia, PA): A creative agency that helps musicians build their brand and enhance their creative direction by connecting them with a global network of creatives.

Y'all Company, Inc.
(Winston-Salem, NC): Uniting people through food and Y'all Sauce, southern charm in a bottle.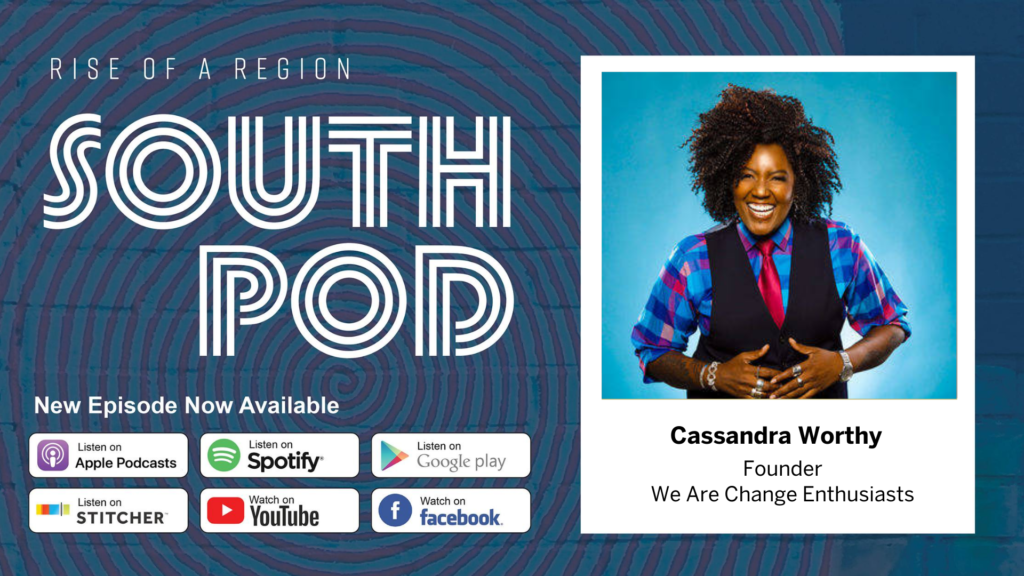 Staying positive and embracing change can be a difficult task, but Founder of We Are Change Enthusiasts, Cassandra Worthy makes it look easy! On this episode of SOUTH POD, we feature Cassandra Worthy's keynote presentation from the 2020 DIG SOUTH Virtual Tech Summit.
Become a DIG NATION member today to connect with top tech talent and access year-round content like Cassandra's chat at digsouthtechsummit.com.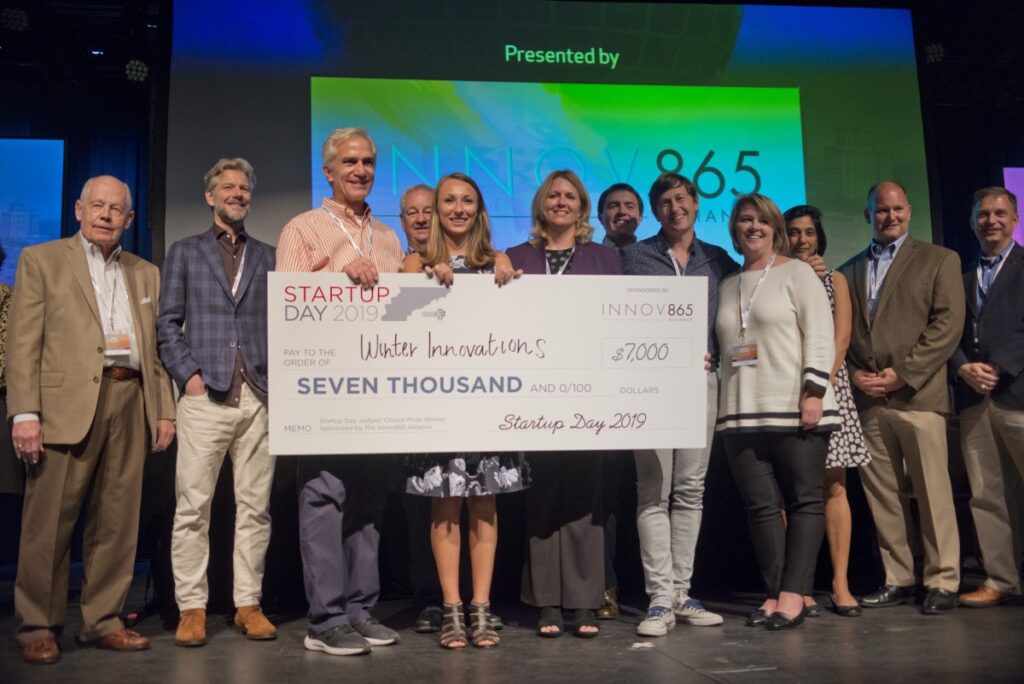 CED is excited to announce that technology companies can now APPLY for GRO, an Incubator by CED. If selected, your company will have the opportunity to join CED's first nine-week cohort starting October 5, 2020.

Companies in GRO will attend weekly classes delivered by top-notch speakers, receive 1:1 coaching from industry leaders and entrepreneurs, and complete assignments to help grow and scale.

They encourage you to apply if you:
Have plans to start a high-growth tech company but don't know where to begin
Have started a high-growth tech company but are pre-revenue and need to nail the launch
Have launched a high-growth tech company with some revenue but are looking to scale
All applications are due by September 10, 2020. Learn more and apply here.
????KNOXVILLE – Going virtual. Innov865 Week celebrates Knoxville's entrepreneurial spirit by bringing together startups, entrepreneurs, investors, business leaders, students, and the East Tennessee community for a week of educational panels, pitch competitions, investor roundtables, and social events in September. This year's Innov865 has gone virtual! Read more.
????ATLANTA – Coming up. Georgia is known nationally as the Peach State. But it could soon hold the title of "Technology Capital of the East Coast," with the help of a new initiative out of the lieutenant governor's office. This week Lt. Gov. Geoff Duncan announced the official launch of the Partnership for Inclusive Innovation, a public-private partnership to drive statewide inclusive innovation and support Georgia's "entrepreneurial identity." Get the deets.
????????‍????NORTH CAROLINA – Entrepreneurial support. WRAL TechWire launched LimeLight, a new feature designed to bring more attention to companies and individuals across the North Carolina entrepreneurial ecosystem. In a Q&A, James Amato, who leads Strategic Business Development for WRAL Digital Solutions, talks about the new project. Tech it out.
????AUSTIN – Company communications. Austin risk management software startup LitLingo believes it can play a major role using AI and a rules-based approach to company communication. LitLingo encodes company policies into its monitoring software to proactively alert employees and managers when communications are being crafted in a potentially damaging way. Learn more.