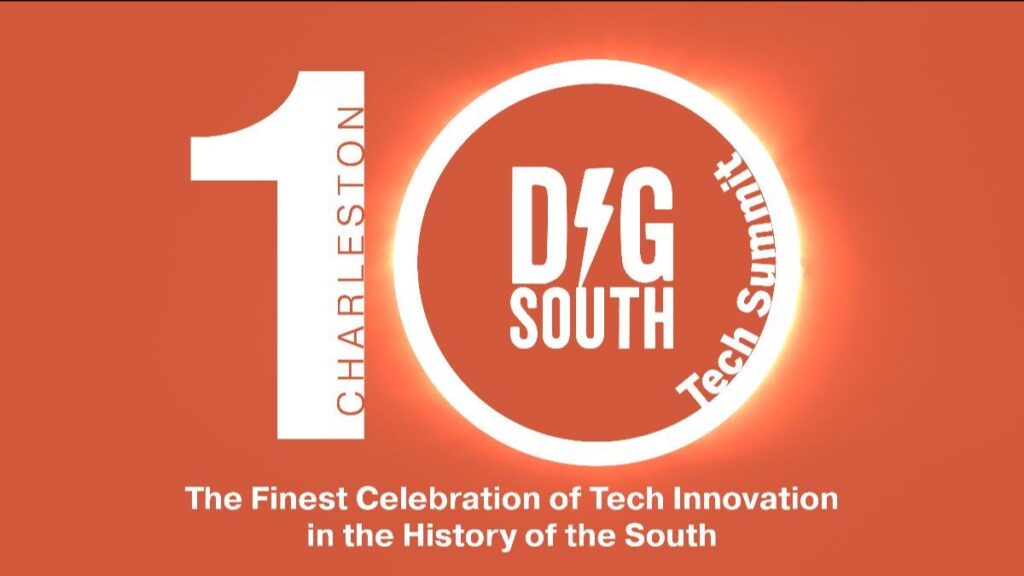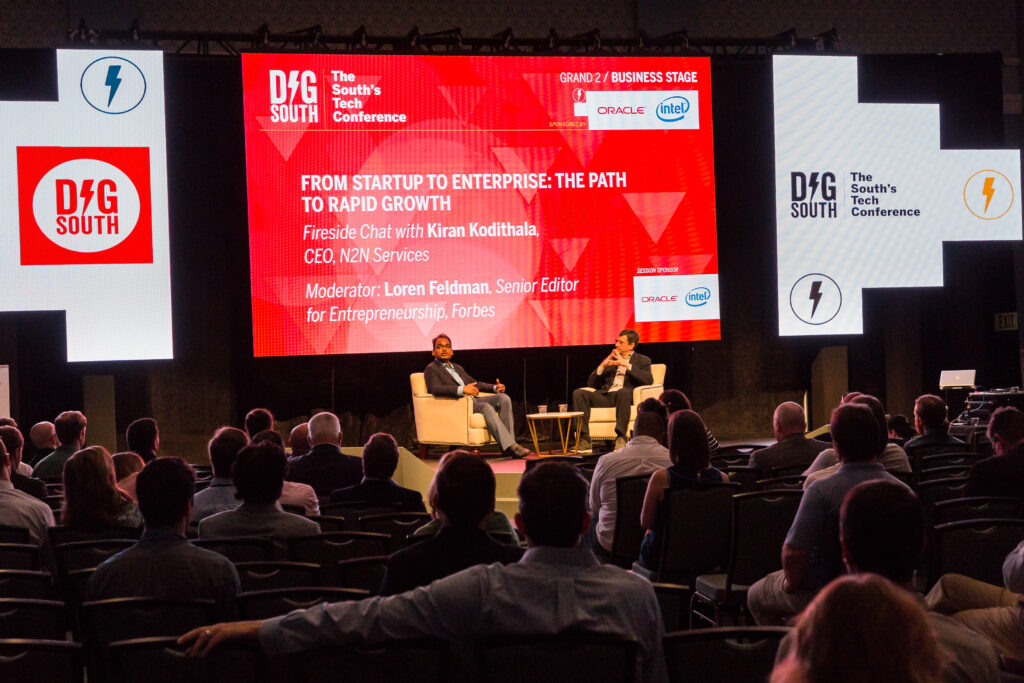 DIG SOUTH Tech Summit Celebrates 10-Year Anniversary!
Holy startup, Batman, it's been a full decade of DIG SOUTH. Fire up the founder's signal – we're going big, Big, BIG … And we need to see YOU there next May 11-13!
DIG SOUTH is proud to announce a partnership with College of Charleston to host our 10th-annual DIG SOUTH Tech Summit in TD Arena (the place where we first launched in 2013), May 11-13, 2022.
Each year, DIG SOUTH invites the South's top tech founders, executives, entrepreneurs, scalable startups and leading global brands to convene in Charleston for three tremendous days of inspiration, networking, fundraising and strategic know-how. The 2022 theme for DIG SOUTH Tech Summit is "Resilience." Attendees will learn strategies to make their companies and themselves more resilient in disruptive times.
DIG SOUTH Tech Summit delivers the best contacts, content and capital opportunities in the South – read the full press release here.
DIG SOUTH Tech Summit Badges – FREE with DIG NATION Membership
DIG SOUTH Tech Summit badges are complimentary with the purchase of an annual membership to DIG NATION: The South's Tech Tribe, found at dignation.co, or can be purchased separately at digsouthtechsummit.com.
DIG SOUTH Wild Pitch Application – Open Now!
The call for startups to join DIG SOUTH Wild Pitch, held on the last day of the Summit, May 13, 2022, is now open. Billed as "The South's Capitol of Capital," Wild Pitch features early- and growth-stage companies. Startups can apply for selection to DIG SOUTH Wild Pitch here. Find details at digsouthtechsummit.com.
DIG SOUTH Tech Summit Speaker Lineup
Past speakers have included VaynerMedia CEO and internet personality Gary Vaynerchuk, Roadie CEO and founder Marc Gorlin, Casper Co-founder and CEO Phiip Krim, Jet.com President Liza Landsman, Essentialism author and podcaster Greg McKeown, and tech leaders from IBM, Twitter, Blackbaud, BoomTown, Revolution Ventures, Benefitfocus, Oracle, Dolby.io, Sharp and hundreds of others over the last nine years. The lineup will be announced in January of 2022.
———————
THE GOOD WORD ON DIG SOUTH
"The College of Charleston is excited to partner with DIG SOUTH again and to serve for the next five years as the physical home of their annual tech summit, which brings to Charleston many of the country's top minds related to technology, business and innovation," said College of Charleston President Andrew T. Hsu.

"I believe there is an enormous opportunity for some of the biggest brands in the world, biggest companies in the world at DIG SOUTH," said Gary Vaynerchuk, best-selling author, marketing expert and CEO of VaynerMedia.

"DIG SOUTH is a fantastic meeting ground for entrepreneurs and investors," said Bobby Ocampo, managing partner at Blueprint Equity. "This event is a must for anyone involved in the technology scene in the Southeast."

"DIG SOUTH connects many of the nation's leading experts in digital technology, marketing and business to the South's smartest startups," said DIG SOUTH co-founder Sunny Gray. "From global brands like Oracle, Forbes, Under Armour and VF Corporation to regional industry leaders like Benefitfocus, Blackbaud, Terminus and Smashing Boxes, DIG SOUTH welcomes the best of the best."
Tech in the South
RICHMOND – StageZero Saving Lives. Early detection and intervention of cancer and other diseases is crucial to optimizing outcomes for patients. That, said James Howard-Tripp, is the reason StageZero Life Sciences was created. StageZero Life Sciences is an integrated health care company based in Canada with a U.S. headquarters in Richmond. The company recently announced that patients can access its innovative technology, which aims to provide early detection of multiple cancers through a single sample of blood. Dig it.
(RichmondInno, Eileen Abbott)
CHARLOTTE – Ready to Rent? Local startup Rent Ready is putting a recent $10 million equity funding to good use with the launch of a new platform that will speed up and smooth over the process of turning an apartment. Rent Ready closed the Series A round in March, led by Grotech Ventures with participation from previous investors, like CreativeCo Capital, as well as six new investors. Co-founder Jonathan Kite said a large portion of those funds was used to invest in technology, including the company's new automated turn board platform. Read more.
(CharlotteInno, Elise Franco)
ATLANTA – Funding and Financials. Audit Sight, an Atlanta audit software startup founded by accounting veterans, has raised a $2.5 million seed round to launch its product. Audit Sight is another financial technology startup coming out of Atlanta, a global capital for fintech. Its launch shows how industry experts can turn to technology to create niche innovations. The $2.5 million raise also reflects the health of the tech ecosystem. Atlanta startups are raising record amounts of venture capital, and the value of early stage rounds is growing nationwide. Get more info.
(AtlantaInno, Erin Schilling)
AUSTIN – Job Security in Security. Austin-based app security company Invicti Security Corp. has sold a majority stake to Boston-based growth equity firm Summit Partners for $625 million. Invicti currently has 71 Austin employees, including leaders of several departments, including engineering, marketing and customer success. Invicti plans to expand its global headcount 35% to 40% by the end of 2022. That will involve Austin hires, although the company's blended office and remote approach means it's looking to hire anywhere. It also has offices in Malta and Istanbul. Learn more about Invicti.
(AustinInno, Brent Winstrom)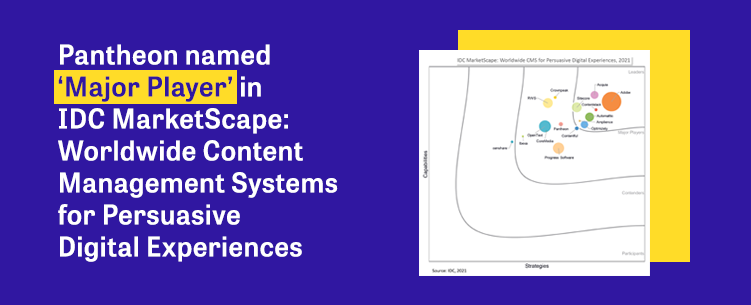 DIG NATION Member Rundown
Pantheon has been named a Major Player in IDC's latest market report on content management and digital experience platforms.
The IDC report covers SaaS-templated, website-managed hosting, web content management, and headless CMS vendors — with advice for technology buyers that includes adopting a cloud-first strategy and opting for intuitive user interfaces. Get more info on Pantheon.

???? Calling All Members of DIG NATION
Don't forget, friends, we're here to help you connect with businesses and sharp people across the South. Upload your jobs, news, blog posts, events and much more to your profile on dignation.co. We've got BIG news coming – stay tuned!