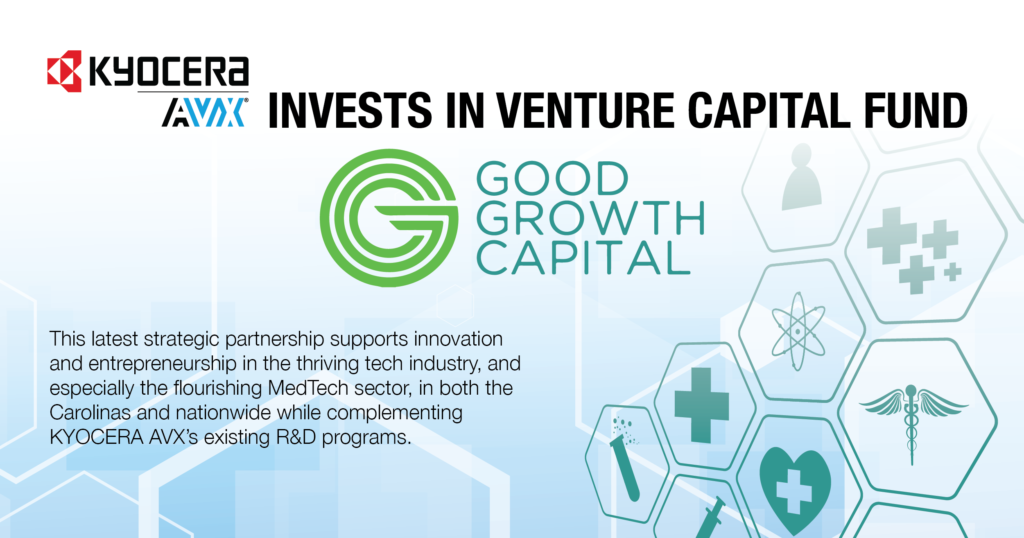 KYOCERA AVX INVESTS IN VENTURE CAPITAL FUND GOOD GROWTH CAPITAL
FOUNTAIN INN, SC – KYOCERA AVX, a leading global manufacturer of advanced electronic components engineered to accelerate technological innovation and build a better future, has invested in Good Growth Capital (GGC), an early-stage venture capital firm heavily invested in complex science and deep-tech startups dedicated to producing new technologies rooted in scientific advances and discoveries and substantial engineering innovation. This latest strategic partnership, established in August 2021, complements KYOCERA AVX's existing research and development programs and further supports the company's commitment to engineering a brighter future for the whole of humanity.
GGC is a majority women-managed fund with offices in both Charleston, South Carolina, and Boston, Massachusetts. These locations allow GGC to leverage the intellectual and entrepreneurial capital of the Carolinas, as well as that of the storied Ivy League institutions and MIT, through its longstanding relationships with top research universities and alumni and consequent access to a robust stream of technology startups.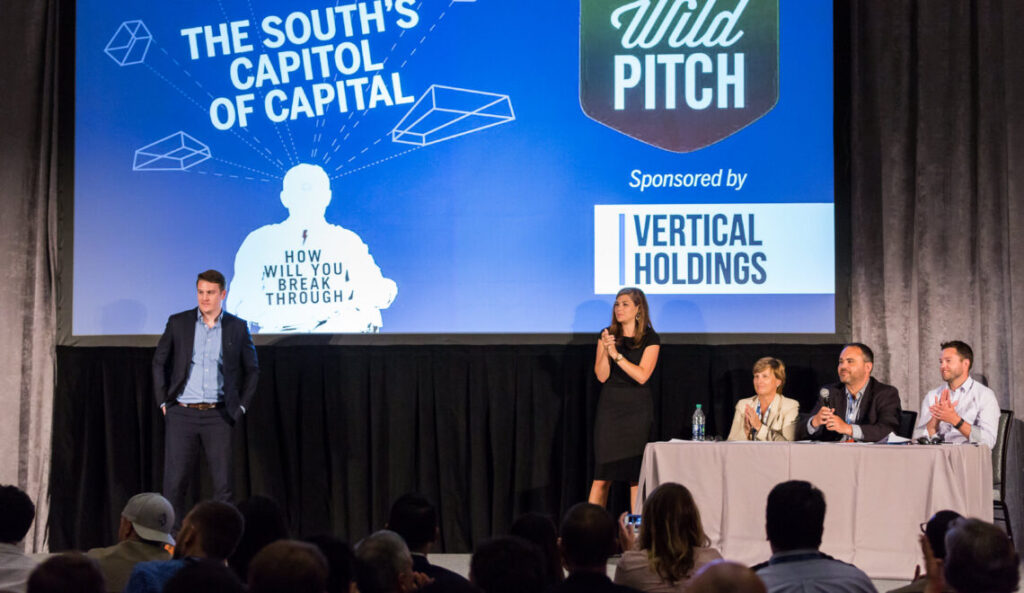 DIG SOUTH's CALL FOR STARTUPS OPEN UNTIL DEC. 31
Ready to take the stage with your pitch? Limited slots are still available, with applications submitted before December 31, 2021 taking priority. In addition to the opportunity to present to 100+ investors, the prize for the 2022 Wild Pitch is a $5000 corporate membership to DIG NATION: The South's Tech Tribe. 

DIG SOUTH's Wild Pitch is the South's Capitol of Capital, the first and foremost event specifically welcoming startups from across the region to connect and raise capital. Now celebrating its 10th anniversary, Wild Pitch at DIG SOUTH Tech Summit has presented more than 500 companies to ​the South's top investors and investors across the nation. Startups have received​ funding each year, with two appearing on Shark Tank, two winning Revolution Venture's Rise of the Rest tour and more than 100 joining Techstars, Queen City Fintech, Co-Labs, The Harbor and other accelerators around the region.

And don't forget to ask about "Startup Alley," "Speed-dating for Startups," the Investor Lounge and other opportunities to showcase your company at DIG SOUTH Tech Summit. Email info@digsouth.com for details.
TECH IN THE SOUTH
DURHAM – Startup Space Food. Durham-headquartered Induction Food Systems is one of five U.S.-based startups selected to participate in the Shell Gamechanger Accelerator™, which is a program in partnership with the U.S. Department of Energy's National Renewable Energy Laboratory (NREL). The program was open to "promising early-stage cleantech startups with resources to accelerate product commercialization while de-risking investment," according to a statement from the accelerator.  The technology behind Induction Food Systems was first developed in response to a challenge from the National Aeronautics and Space Administration (NASA), according to company co-founder and CEO Francesco Aimone. Learn more.
DALLAS – Apps for Expertise. A new online marketplace is looking to combine the digital tools people use to connect, helping experts and creators monetize their time and knowledge. Surje, a Dallas-based video chat and event startup, launched last month with the mission of connecting audiences to creators of many types and sizes, from influencers and athletes with followings in the thousands to business leaders and industry professionals who may only have a few hundred. Since launching about three weeks ago, Dunbar said about 200 creators have joined the platform. Currently, Surje is focused on growing its audience base through initiatives like working with college campus ambassador programs. Get more info.
RICHMOND – Connecting Tech Talent. Philadelphia-based Tribaja is opening an office in Richmond. Founder and Chief Executive Officer Shannon Morales said she launched Tribaja in 2020 as way to help propel underrepresented communities forward in the tech space. The platform provides career advancement resources and job opportunities at equitable workplaces. The decision to expand to Richmond was based on her positive experience in Lighthouse Labs cohort, Morales said. The startup has also joined local incubator Startup Virginia. A support system for diverse communities is sometimes missing in the tech space, making it Tribaja's goal to connect tech talent to resources and mentorships to help them land and secure jobs faster. Dig it.
ATLANTA – Improving AI. Iodine Software, an Atlanta-based healthcare AI company, received a strategic growth investment from Advent International in a transaction that values the business at over $1B. The amount of the deal was not disclosed. The investment provides capital for expansion, further development of its AI engine, CognitiveML, and to power other new products aimed at improving care delivery for health systems. The company's platforms are used by more than 800 hospitals and more than 80,000 healthcare providers nationwide. Read more.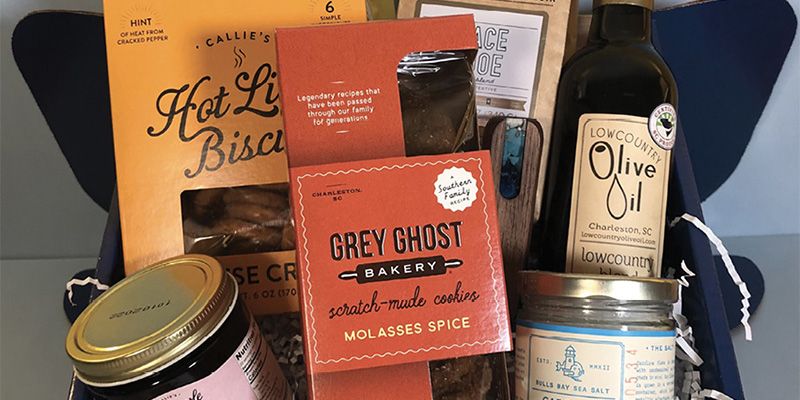 DIG NATION MEMBER RUNDOWN
DIG SOUTH CFO Sunny Gray Launches Essentially Charleston Gift Box Biz
Sunny is always rising to the occasion. This time our intrepid entrepreneur has launched EssentiallyCharleston.com, a gift box business focused exclusively on primo products made locally. Think Callie's Hot Little Biscuit, King Bean Coffee Roasters, Grey Ghost Bakery, Toadfish, Rewinded Candles, Bulls Bay Saltworks, Lowcountry Olive Oil, Paige Hathaway Thorn Silks, GRILLKILT, Charleston Reclaimed Serving Boards and much more. Categories include Kitchen & Pantry, Home & Garden, Fashion, and Lifestyle. Grab your Holy City Holiday Gift box today. Perfect for the season or recurring corporate gifts year-round. EssentiallyCharleston.com.

???? Calling All Startups!
It's the last month to apply for WILD PITCH at the DIG SOUTH Tech Summit 2022. There are limited slots still available, with applications submitted before December 31, 2021 taking priority. Come take the stage!