HARBOR ENTREPRENEUR CENTER OPENS ACCELERATOR APPLICATIONS
CHARLESTON – The Harbor Entrepreneur Center accepts eight companies each year into the Harbor Accelerator program where they remain in residency at the Harbor Epic Center for 24 weeks. During residency, companies engage in a focused curriculum of 14 topics curated by the Harbor's proven entrepreneurs, which includes training on subjects vital to the success of young startups like sales, marketing, finance, law and team building.

In addition, startups receive focused, hands-on mentoring by a cadre of founders of some of the region's most successful companies, who are selected to provide the benefits of their experience based on the individual needs of each of the cohort companies. The mentors' input is enhanced by the Harbor's extensive list of subject-matter experts who can provide an "on-call" wealth of knowledge to solve the challenges unique to each cohort member. The experience is rounded out by repeated practice of a vital skill needed by all company leaders: The Pitch.
The application deadline for the 2022 Cohort is March 10. Apply here now!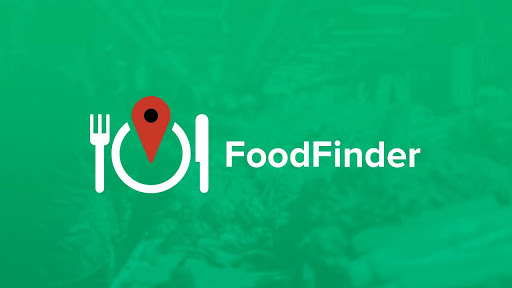 TECH NEWS IN THE SOUTH
DULUTH, GA – Food Relief. Jack Griffin started building FoodFinder, a geo-location website and database of food banks, to help tackle food insecurity in 2017. The issue was big then, but the pandemic heightened the need for food assistance programs and food pantries. Today, Griffin has been scaling FoodFinder full-time. It has become a national platform with information on 50,000 food pantries across the country. That means 5 out of 6 food pantries are currently searchable on the site. Not only can the app be used by individuals in need of food assistance; it can also be a key aid for teachers, counselors, and community members looking to give back or distribute accurate information. FoodFinder teamed up with Google for Nonprofits in 2020 to help with different hunger relief initiatives which is critical because many food pantries have historically been hard to search given their poor web presence or lack of accessibility. Get the scoop.
DURHAM – Putting Energy in Investing. NET Power, co-owned by multiple entities including Durham-based 8 Rivers Capital, is adding another strategic partner and investor, the company announced on Tuesday. Baker Hughes, an energy technology company based in Houston, Texas, has joined with and invested in NET Power to advance the technical and commercial development of the organization's electric power system. NET Power's power system does not generate atmospheric emissions and "inherently captures all carbon dioxide," according to a company statement. The partnership includes McDermott; Constellation; Oxy Low Carbon Ventures, a subsidiary of Occidental; 8 Rivers Capital, and now Baker Hughes. According to a statement, Baker Hughes will apply its "advanced technology capability to develop supercritical CO₂ turboexpanders and other critical pumping and compression technology for NET Power plants." Learn more.
LOUISVILLE– Growing Out of Destruction.  After devastating Western KY tornadoes, drone company, VizionAir, was motivated to expand. Anytime there's a major storm or outage in Kentucky, LG&E and KU calls in VizionAir to assess the damage. The company, founded by Drew Duffin, CEO and Ian Willmot, operations officer, uses its equipment and network of drone pilots to help the commonwealth's utilities providers better administer repair and remediation.VizionAir is putting together a team to develop a proprietary software for enterprises, with a focus on electrical and gas utilities. It will open a seed fundraising round in the coming months, seeking $1.25 million to fund the system's development and team growth, including software developers and sales and marketing talent in response. Get more info.
CALLING ALL VOLUNTEERS!
So, what are you up to May 11-13? Want to meet tech executives, founders and top-shelf speakers with deep domain expertise? Or, maybe just party with the cool innovator kids and jet about Charleston? Excellent. Volunteer for DIG SOUTH Tech Summit. Spaces limited. Email info@digsouth.com for details.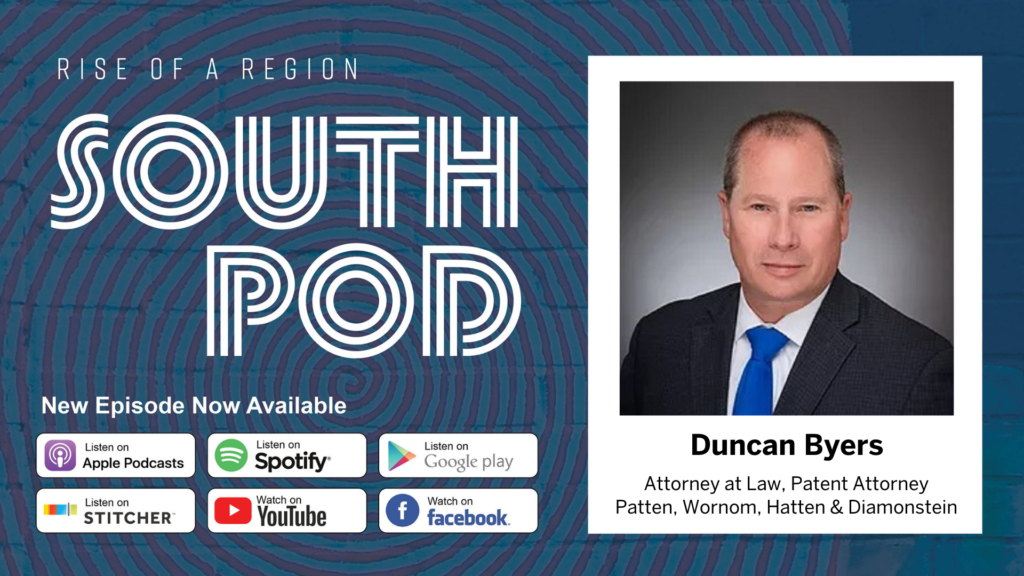 DIG NATION MEMBER RUNDOWN
In Case you Missed It…Attorney Duncan Byers Featured on SOUTH POD: Rise of a Region
DIG SOUTH Founder, Stanfield Gray, joins Virginia-based Attorney Duncan Byers this week on SOUTH POD to talk intellectual property development, protection, and litigation. Watch and listen to the podcast on our YouTube page.
SURVERY SAYS…WIN A BADGE
DIG SOUTH wants to know what you think and is offering a golden ticket for those pearls of wisdom. Dangerous, we know. Please take our 2-minute survey – found here –  and one lucky duck will win a free badge to DIG SOUTH Tech Summit, May 11-13. Thanks!
APPLICATIONS OPEN FOR DIG SOUTH'S WILD PITCH SIDE STAGE HERE