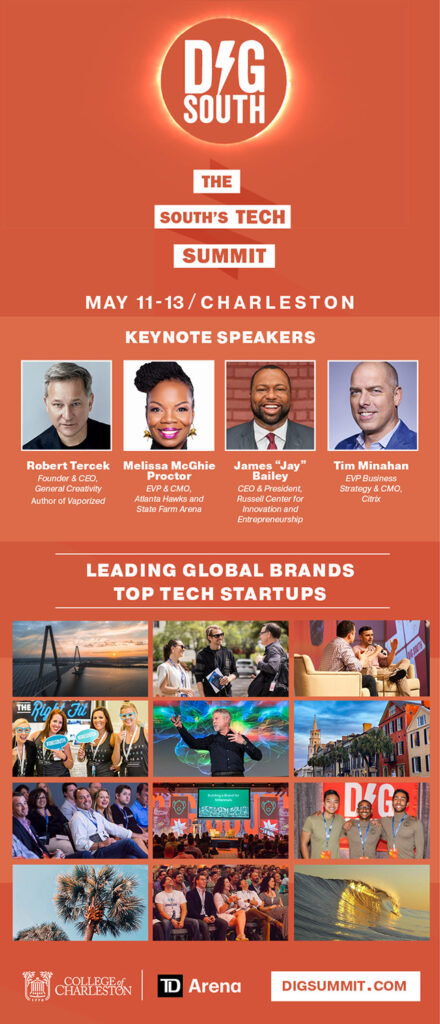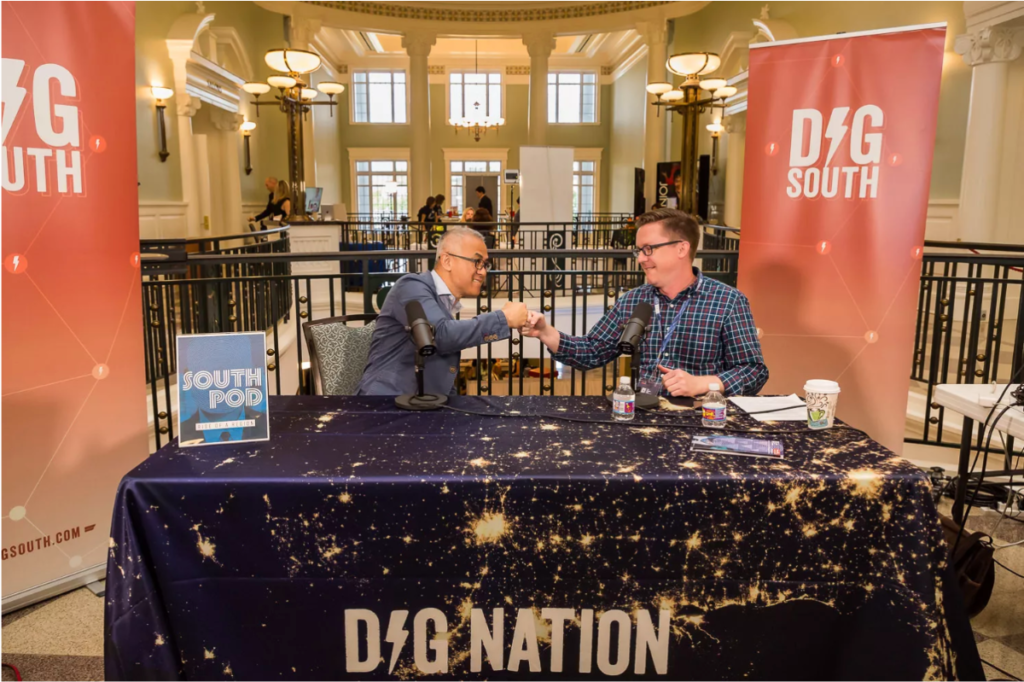 DIG DIG SOUTH ON SC PUBLIC RADIO MONDAY, APRIL 25
Tune in to your local South Carolina Public Radio on Monday, April 25 at 7:52 am when the South Carolina Business Review will feature the upcoming DIG SOUTH Tech Summit, May 11-13. The coverage was made possible by our friend and SC Business Review regular John Warner. A link to the stream will be available here on Monday morning.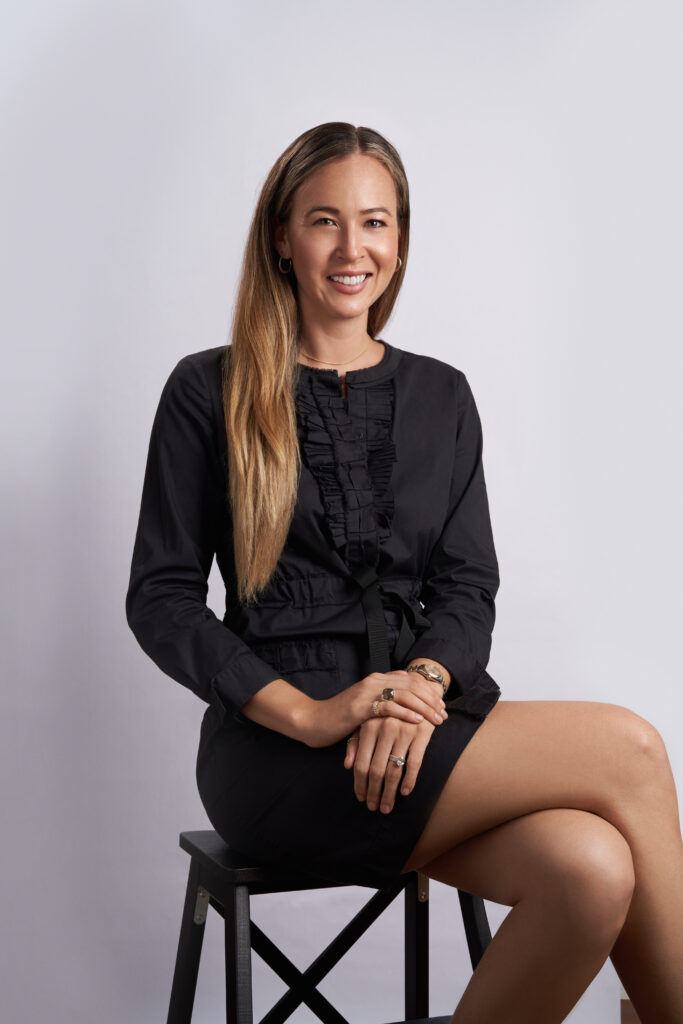 VAYNER NFT PRESIDENT AVERY AKKENINI HEADLINES DIG SOUTH TECH SUMMIT
Get ready for Vayner NFT President Avery Akkenini, who will keynote at this year's Summit next month on Thursday, May 12. We're guessing more than a few of you have NFT FOMO. Don't miss this talk to find out what the hype is all about.
More about Avery
Avery serves as the President of Vayner NFT. She leads the company's mission to build long-term strategic NFT projects for the world's leading intellectual property owners serving brands, celebrities, athletes and associations looking to incentivize and reward brand advocacy and customer loyalty. Avery previously led VaynerMedia's expansion into APAC, growing a team from 0-150+, opening offices in Singapore, Bangkok, Tokyo, and Sydney, and was awarded SEA Independent Agency of the Year, within 2 years. Prior to joining Vayner, she spent six years working at Google, in both Silicon Valley and New York City. Avery will drive meaningful cultural relevance for others to unlock the potential of one of the biggest technology shifts of our time.
Grab your badges now at digsouthtechsummit.com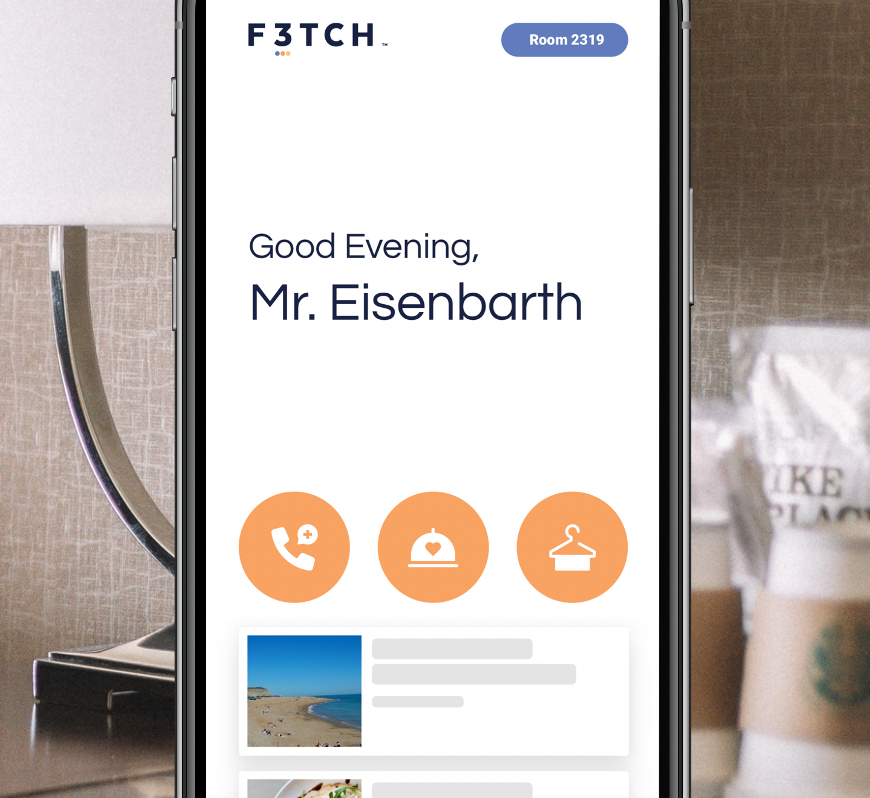 F3TCH WINS CAPITAL CONNECTS PITCH CONTEST
WILMINGTON, NC – F3TCH (who will join DIG SOUTH's Wild Pitch on May 13) is proud to announce it won the Capital Connects Pitch Contest in Greensboro, North Carolina on April 13, 2022. Capital Connects has been a fixture of the Greensboro, North Carolina entrepreneurial ecosystem for more than twenty years and serves as a bridge between investors and entrepreneurs seeking capital for their companies. Capital Connects is an event by Launch Greensboro, the entrepreneurial arm of the Greensboro Chamber of Commerce. F3TCH is based in Wilmington, NC.
"One of our mentors, Jim Roberts, of the Network for Entrepreneurs in Wilmington (NEW), let us know of the event. We applied and were incredibly fortunate to be included. NEW then helped us with their Tough Love event (coaching) and attended the event to support us," said Jaime Turney, Co-Founder & CFO. F3TCH is an innovative and disruptive mobile app for hotels & resorts that is designed to improve and bring smart device technology to guest communications.  F3TCH allows hotels to communicate with their checked-in guests in a more interactive way during their stay.  F3TCH works on the existing hotel systems and provides a triple play of Voice, SMS, and Rich Text options for hotels and their guests. F3TCH's next event is the Dig South Tech Summit, in Charleston, South Carolina in May. Read more about F3TCH.
(PR Distribution™)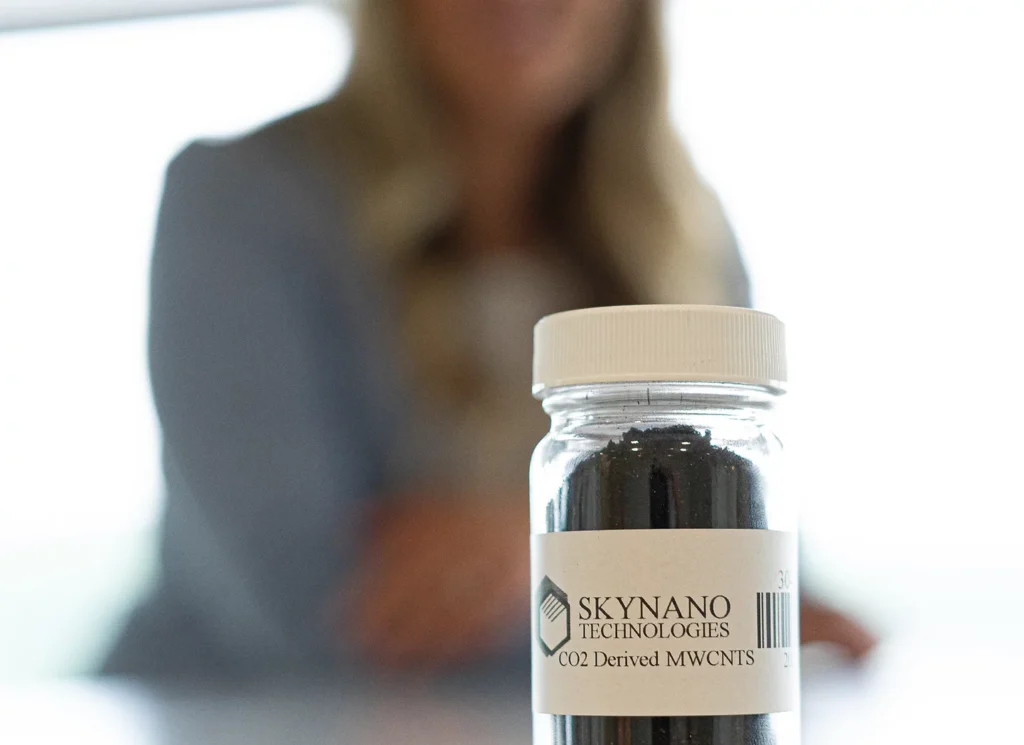 TECH NEWS IN THE SOUTH
KNOXVILLE – SkyNano Technologies, a local startup and developer of a manufacturing technique for the capture and conversion of CO2 from various sources into valuable carbon-based materials, has been named a top 60 finalist for the Milestone Awards in the largest incentive prize in history, Elon Musk's 100M XPRIZE Carbon Removal. The $100M XPRIZE to develop carbon removal technologies at scale recently conducted Phase 1 and 2 for the Milestone Awards with a XPRIZE record setting 1,133 submissions. SkyNano is the only Tennessee applicant still remaining in the Milestone Awards competition. In order to compete, SkyNano was required to demonstrate a working carbon removal solution, estimate costs at scale and develop a plan for scaling and deploying their technology at a megatin and gigaton per year capacity. Potential scaling of SkyNano's technology had to be equivalent to that needed to move the needle on climate change. Check it out!
(SkyNano Technologies)
ATLANTA – Reflekt Me may have just moved to town, but the RetailTech startup is no stranger to the Atlanta startup ecosystem. The startup, dedicated to making e-commerce shopping a more inclusive and engaging experience, was part of the Creative Destruction Lab's 2021 cohort at Georgia Tech. Co-founders Tope Mitchell, Ph.D. and Gerald Mitchell, Jr., Ed.D., decided to relocate to Marietta from the Research Triangle earlier this year to embed further in Atlanta's entrepreneurial and RetailTech ecosystems. Reflekt Me saw a massive need to make sure e-commerce platforms reflect all shoppers. So it is looking to change the face of online shopping. Retailers use Reflekt Me to showcase real people using and wearing their products. "People really want to be represented," Tope said. "They want to be seen and they want companies to acknowledge the beauty of their diversity." Instead of building a plug-in, Reflekt Me creates a window for shoppers to explore product photos of people of different heights, weights, ages, ethnicities, and genders, in order to get a better sense of how that product will work for them. This doesn't change the design or layout of the website, but still gives shoppers a hyper-person experience. Learn more.
(Hypepotamus, Maija Ehlinger)
LEXINGTON – Lexmark International Inc. will invest $4 million to establish a solar panel array and educational greenspace area at its corporate headquarters in Lexington. The imaging and Internet of Things (IoT) company will construct a 10-acre solar panel array that will generate over 225,000 kilowatt hours per month and will offset approximately 10% of the Fayette County site's energy usage, according to a news release. The new array will be used to power the Lexmark facility and has potential to increase capacity up to six megawatts. Company leaders anticipate work on the project to begin immediately and be completed by the end of 2022. Kentucky Lt. Gov. Jacqueline Coleman, who attended the project's groundbreaking on April 19, said the it builds on the commonwealth's vision for the future. Dig it.
(KYInno, Haley Cawthon)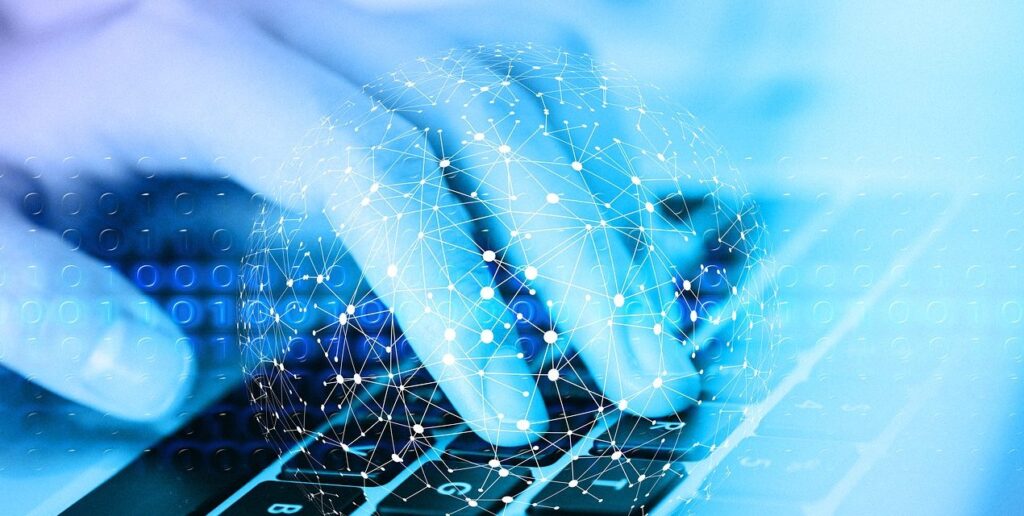 IT'S THE WEB 3 BEAT:
BLOCKCHAIN + CRYPTO + NFTs + DAOs + METAVERSE & BEYOND
THE METAVERSE GROWS IN NORTH CAROLINA
Given the current war for talent with some 50,000 open tech jobs already across North Carolina are there people available who can fill the exploding number of jobs for building the metaverse? According to data just released from the job search site Adzuna, Metaverse vacancies have quadrupled in four months. The site tracked 3,339 US job postings with the keyword "metaverse" in February 2022 alone.
James Neave, Head of Data Science at Adzuna, said in the report that the recruitment of metaverse experts shows "exponential growth".  "Metaverse experts are the new hot ticket with related roles ranging from developers to data scientists, writers, and creatives," wrote Neave. "This follows booming interest in crypto and cybersecurity roles throughout 2021 and we continue to see the tech sector growing and strengthening during this time." Learn more about the metaverse growth in NC.
DIG NATION MEMBER RUNDOWN
DIG NATION MEMBERS RECOGNIZED AT ENTREPRENEURS' ORGANIZATION IN CHARLESTON
Patrick Bryant, co-founder of the Harbor Entrepreneur Center and Code/+/Trust, and Christina Lock, CEO of Catch Talent, were each recognized at Entrepreneurs' Organization Charleston's entrepreneurship celebration in front of nearly 100 guests at Hall's Signature Events. Bryant was presented with EO Charleston's inaugural Hall of Fame recipient award. He is a founding member of EO Charleston and serves on the board as community outreach chair. Lock was recognized for her business Catch Talent, being the only female-owned business from the Lowcountry on the 2021 Inc. 5000 list. Congresswoman Nancy Mace presented the award. Read all about it.
(Charleston Regional Business Journal)
THE OFFICE PEOPLE HIRES NEW PROJECT SPECIALIST
The Office People has hired Steven Lebonville as a project specialist. Lebonville is a graduate of the University of North Carolina with a bachelor's degree in urban planning and a master's in applied geography with a focus on geopolitics. He joins an expanding team of technology professionals offering a wide range of products, services and support for businesses large and small. Check it.
(Charleston Regional Business Journal)

VOLUNTEER AT DIG SOUTH
Want to meet tech executives, founders and top-shelf speakers with deep domain expertise? Get a great job? Or maybe just hang with the cool innovator kids and jet about Charleston? Excellent. Volunteer for DIG SOUTH Tech Summit. Spaces limited. Email info@digsouth.com for details.
SPONSOR THE SOUTH'S TOP TECH TALENT
Get the contacts, content and capital your company needs to succeed at DIG SOUTH Tech Summit this May 11-13. A few sponsored sessions and stages remain, host a happy hour, showcase with an exhibitor booth or get creative with the DIG Team. Don't miss this opportunity to position your brand front and center as a leader in the region. Request a sponsor deck or contact us by emailing info@digsouth.com for details.
SPEAK YOUR MIND AND WIN A BADGE
DIG SOUTH wants to know what you think and is offering a golden ticket for those pearls of wisdom. Dangerous, we know. Please take our 2-minute survey – found here –  and one lucky duck will win a free badge to DIG SOUTH Tech Summit, May 11-13. Thanks!